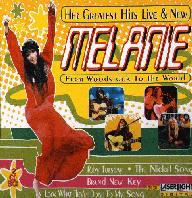 Her Greatest Hits Live & New
EUR CD: Laserlight digital nr. 24 337 - Nov 96
---
Sleeve Notes
From the moment she first opened her mouth to sing in front of one half million people at Woodstock in 1969, up to the present day, it has been obvious that Melanie is no ordinary artist. Some twenty-six years later, when many of her contemporaries have fallen by the wayside, Melanie is still singing with her sweetly gravel edged voice.
Melanie's voice is a special instrument - one that prompted New York Times critic John Rockwell to comment a few years ago; "Charismatic! Her gifts are so enormous and so palpable, a magical sense of phrasing". It is this voice that entrails her audience, that communicates deeply and directly with them.
Her audience is her life source. The simple joy of singing and making music has kept Melanie moving steadily through the ups and downs that any artist with long term career viability has to deal with. To date Melanie has recorded over thirty albums.
Some critics have never understood Melanie's relationship with her audience, yet she considers it to be one of the cornerstones of her career. Recently Melanie explained her love of performing in this manner; "That feeling of laughing and crying at the same time, that's what I'd want people to walk away feeling - a little more in love with the human race, a little more kinship with the person next to them". It is little wonder then that Melanie's fans are intensely loyal and that her live performances inevitably sell out no matter what music is in vogue. Melanie has never gone for her loyal following. Though periodically she reminds the world of her special gifts via her single hit records "Lay Down (Candles In The Rain)", "Look What They've Done To My Song", "Brand New Key", "Ruby Tuesday"," The Nickel Song", "Peace Will Come (According To Plan)" and "Ring The Living Bell".
And there are newer European hits such as "Something Warm", "Rock In The Road" and "You Don't Know Me". Other special songs include, "Freedom Knows My Name" and "Summer Of Love", the official theme song of Bethel, N.Y. the original site of Woodstock, written and performed for its twenty fifth year anniversary.
She was born Melanie Safka in Astoria, Queens, New York. Her mother was a jazz singer and introduced Melanie to her first radio show at the age of four. She spent her childhood in New York and the Penland School of crafts in North Carolina. After this Melanie honed her singing and guitar playing abilities, performing in Greenwich Village coffee-house and on the streets. During this period she was heavily involved in acting and performed in summer stock theatre productions.
Soon Melanie met her husband/producer/Manager, Peter Schekeryk. Her first major NYC club appearance at the Bitter End was followed by Town Hall, Woodstock, a sold out Carnegie hall show and the rest is history.
---
Back to Discography Index
Back to Chronology
Back to Melanie