People Magazine, June 10th 1996 edition.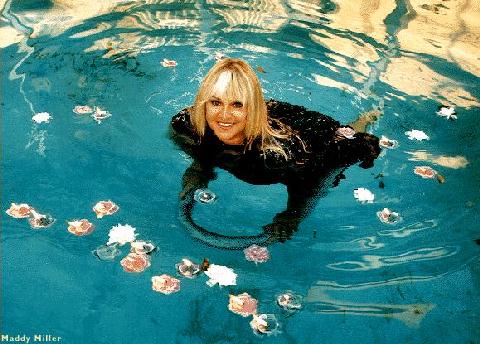 HER CANDLE IN THE RAIN
LIT UP A GENTLE FOLK ERA

Back in the '60s, what she really wanted to be was an angry young poet. Instead, her muse came up with "Brand New Key," a perky bit of froth about a pair of roller skates that sealed her fate as Flower Power's poster girl. "At the time, it killed me," remembers Melanie Schekeryk, 49, who in 1969 performed a career-making set at Woodstock, "because it marked me as this cute, ever-so-sunny performer, and I wanted to be deep, dark and brooding."

Despite writing mild-mannered hits such as "Beautiful People," "Lay Down/Candles in the Rain" and "Look What They've Done to My Song, Ma," Melanie fancied herself a rebel. "I didn't think I wanted to be famous," she says. "I thought I wanted to join the Peace Corps." Even her 1968 marriage to album producer Peter Schekeryk was unassuming. "My record company wanted us to do this big hippie wedding in Central Park," she says. "Instead, we went to Yonkers, had a pizza in the limo and headed for Paris." Now married 28 years and living in Clearwater, Fla., she tours and records in the U.S. and Europe, sometimes with her three favorite backup singers: her children Leilah, 22, Jeordie, 21, and Beau Jarred, 15. "Going to Europe and seeing all these 15-year-olds scream my mom's name," says Leilah, "that was really wild." Melanie couldn't agree more. "They thought I only had old fans," she says. "When they started seeing 15- to 25-year-olds in the crowd, they said, 'Can we open for you?'"
---
The above is part of People Magazine (US)
ROCK 'N' ROLL: THEN AND NOW
which features
DEVO
THE VILLAGE PEOPLE
DEBBIE GIBSON
ROBERTA FLACK
KIKI DEE
EDDIE MONEY
BONNIE TYLER
DEE SNIDER (OF TWISTED SISTER)
JUICE NEWTON
GLORIA GAYNOR
DAVID GATES (OF BREAD)
JANIS IAN
EMERSON, LAKE & PALMER
THELMA HOUSTON
GARRY GLITTER
RICK JAMES
JON "BOWZER" BAUMAN (OF SHA NA NA)
BUFFY SAINT MARIE
FREDA PAYNE
ADAM ANT
LLOYD PRICE
LES MCKEOWN (OF THE BAY CITY ROLLERS)
DEBBY BOONE
ANDREW GOLD
MELANIE
THE DECLINE AND FALL OF SLY STONE
---
Back to Melanie
Note:
Thanks to Karen and Ric…

I went to see SHA NA NA some years back, I was in the front row - I have one of their albums and think they're great!
Well, I have this thing - when I see something really good - I smile and possibly laugh
with appreciation!
SHA NA NA were doing their 'combing their hair and flicking the grease at the audience' bit.
I really burst out laughing - they really had a go at me! - DJB