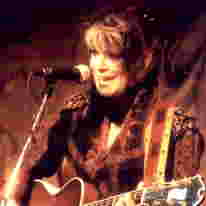 Melanie 1980s by Jeffery Davis
---
In the US, late-late 70's saw the release of 4 Melanie compilations:
"Beautiful" 51 West Records-Q160021
"Somebody Loves Me", "Beautiful People", "Look What They Done", "Lay Down", "Peace Will Come", "Mr. Tambourine Man", "Ruby Tuesday", "Nickel Song", "Christopher Robin", "Animal Crackers"
"Baby Guitar" (Koala, AW-14271)
"Ruby Tuesday", "Momma Momma", " I'm Back in Town", " Leftover Wine", " Love in My Mind", " Any Guy", " God's Only Daughter", " Pebbles in the Sand", " Baby Guitar", " Please Love Me".
In l981 Accord released "What Have They Done To My Song, Ma?" (SN-7109)
"Nickel Song", "Carolina On My Mind", "The Good Guys", "I Really Loved Harold", "Left Over Wine", "What Have They Done", "Good Book", "I Don't Eat Animals", "Mr. Tambourine Man", "I'm Back in Town"

"Beautiful People" (SN-7191)
"Beautiful People", "Any Guy", "Again", "For My Father", "Tuning My Guitar" , "Soul Sister Annie", "Deep Down Low", " In the Hour", "Save the Night"
Melanie spent the early 1980's working on the play "Ace of Diamonds" about Calamity Jane's daughter; but never made it to Broadway.
Quote: "I was writing and doing benefits and doing tours in Europe."
She performed in l983 at The Other End in New York, accomp. musicians: Russell Javors, Dean Kraus.
Newspaper article mentions her putting together "The Seventh Wave";
"The title has positive and negative associations. That's the wave that can take you to shore or destroy you. I just feel like something very positive is happening in my life right now."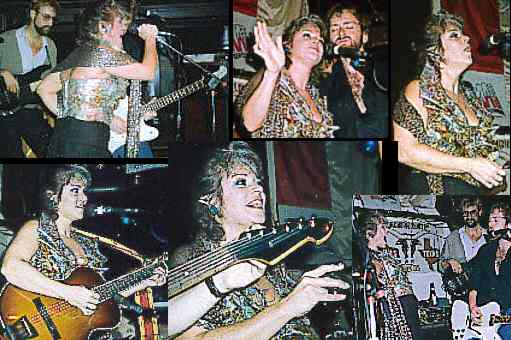 Melanie at the Lone Star Cafe
In l984, she was appearing in clubs in New York City and appeared on WNEW In October 1984 singing three songs; "Tell Me What To Do (Right About Now)," "I Just Can't Do it If I'm Not in Love," "Lover's Lullabye."
1985 saw the release of "Am I Real or What?"
She was interviewed by Kathy Lee Gifford and told her that, during the early 80's, "I made a conscious decision not to be seen," and mentioned doing benefits for Save the Manitees in Florida.
She also released a video of "Rock & Roll Heart" -- the version heard on l987's "Melanie". Video begins with an early clip of Melanie being greeted and introduced by Ed Sullivan.
In l986, she was at The Valley Forge Music Fair near Philadelphia, PA on The Grandmasters of Folk Tour with Glenn Yarbrough, The Kingston Trio, & the Limelighters.
She was third; set included "Didn't You Ever Love Somebody," "Abuse," "Brand New Key," "Look What They Done to My Song, Ma" -- it was a short set.
---
Back to Chronology
Back to Melanie