Melanie Chronology

---
Due to time-lapse between events and published date, articles may not be in correct order.
Every effort has been made to reproduce as originally published. If you find errors, please advise and accept my apologies.
Content may not represent current views/opinions. Format ©1996, 1997 D.J.Boldinger
---
---
7 am - February 3rd - Melanie Born to Fred and Polly Safka
Astoria, Queens, New York
---
April 4th New York newspaper -MOOSE SHOW FEATURE
---
Met and married Peter Schekeryk (born in Ukrain June 23,1942) on New Years Eve
---
I'm Back In Town (single review)
Born To Be
Advertisements
Born To Be (reviews)
ROCK and FOLK Paris, January
MIDEM
Olympia Reviews, February
Sunday Times Magazine (UK)
22nd Feb, 1969 "Bo Bo's Party"/"Mr Tambourine Man" at number 7 in France
7th, Mar, 1969 now at number 5 in France
23rd, Mar, 1969 Melanie appeared in 'Release' (UK BBC2 TV)
Melody Maker - UK - 19th, April 1969
Mystery Girl - UK - 13th, July 1969
troubles of not being a flop
Viking
Asbury Park
Woodstock 2 Record Review
Affectionately Melanie

Timeline
---
1970 Biography by Buddah Records UK
"Lay Down" single publicity
Candles In The Rain
"Candles In The Rain" album reviews
Melanie: Take her home with you
"Ruby Tuesday" single reviews
Voice Of Experience
Right On
First hit in Britain
BUBBLING MELANIE!
Crackling up the charts
It's a hit!' -- says Melanie
"Peace Will Come" single reviews
"Candles In The Rain" receives RIAA GOLD Certification
MELANIE looks younger and more innocent
Leftover Wine
Melanie donated her Santa Monica Civi-concert earnings to the L. A. Child Achievement Center
"Leftover Wine" album advert
"Leftover Wine" album reviews
R.P.M.
Warm welcome for a human campfire
MELANIE TV
Timeline
---
Melanie -- established in Britain
Watch Melanie
Melanie Puts Music Before Men
Stop! I don't Wanna Hear It Any More (Buddah)
Melanie Is Love by Margaret English
Good Book
The Good Book album reviews
Good Book Single Reviews
Melanie's Good (music) Book Advertisements
Melanie almost sings for silence
"I wanted to be a swimmer"
Talking to an old friend
'I was a tragic little figure
Life Love Woodstock Dylan Moon Good Book
SHE magazine - by David Fullmank
Troubadour, Los Angeles
Night Ride Radio Interview
Seven Days Chauffeuring Melanie
Melanie: On the Edge of Greatness
Alexander Beetle EP reviews & lyrics
All The Right Noises
The Top of Pop
Saratoga Springs
BEAUTIFUL PEOPLE COME TO THE UN
UNICEF - official spokeswoman
DISC AWARDS 1971 SPECIAL - (UK)
Hit Parader
Toronto
I'm not holding back anymore
The Story of "Gather Me"
Gather Me
Gather Me album reviews
Vulnerable, sparkling, loving
COSMO LISTENS TO RECORDS
Brand New Key reviews
Meeting Melanie (Rainbow)
---
The Nickel Song single released Jan.1972-Buddah
Ring the Living Bell single released Jan.1972-Neighborhood
Getting Straight
Scene - More! More! More!
Capitol Theatre
Houston concert review
Garden In The City
Garden In The City review
Interview by Margaret English
Someday I'll Be A Farmer single released May 1972-Neighborhood
Hearing The News at West Point
Melanie gets her skates on
Various Shades of Innocence
MEET MELANIE
Songbird
University of Detroit
Candour In The Rain
TV Special Review - "Melanie's The Name"
Garden Party GIF Animation
July: "Gather Me" receives RIAA GOLD Certification
Two and a half million "Brand New Key" singles sold.
#1 Top Female Vocalist Billboard & Cash Box
Schaefer Music Festival
mellow magic Melanie
Some Day I'll Be A Farmer
#2 Record World
Top Foreign Female Vocalist Musik Markt & Schallplatte
Silver Disc - UK
"Otto" Most Popular Female Singer in Germany
UNICEF
Lonely Hearts Club
Interview
Melanie Today!
Royal Albert Hall
Stoneground Words
STONEGROUND WORDS album reviews
Together Alone single released Oct.1972-Neighborhood
OVERNIGHT MATURITY Interview
---
Melanie Sings it and Zings it
Rag House
Bitter Bad single released Feb.1973-Neighborhood
Buddah Maxi Single Review
Very Best of Melanie
The Very Best of Melanie - review
Top World Female Singer - DISC (UK)
Seeds- Single Review
Melanie At Carnegie Hall
Melanie at Carnegie Hall album reviews
Celebrates unhappy birthday
Hit Parader CHICKS!
Oct 3rd: Leilah Safka Schekeryk born (7lb 7oz @12.55am)
The Private Side Of Melanie
Please Love Me
Please Love Me - review
The Four Sides of Melanie
Four Of A Kind
Will You Love Me Tomorrow? - Single Review
Greeting cards
---
Melanie at the Metropolitan Opera
New York Metropolitan Opera House
Capitol Theatre
Madrugada
Madrugada Review
Biography
Roger Kellaway Interview
SAFKA meets HYND- and lives!
MELANIE BACK
THEATRE ROYAL - DRURY LANE
THE MELAINIE MUSIC SOCIETY
Baby Leilah Is Flying High
Lover's Cross single released Jul.1974-Neighborhood
Mum's the word for Melanie
Mother on the move
Sarah Ward Interviews Melanie(32k)
I Want To Buy A Mountain
On Broadway!
As I See It Now
You're Not a Bad Ghost

---
Sunset and Other Beginnings
Sunset and Other Beginnings Review
Jeordie Melanie Schekeryk born 27th March
Video CD
Sweet Misery
Melanie's Singing In The Rain
Evening News (London UK) 1st Oct 1975
Biography 1975
Timeline
---
Melanie resuming career; 'retired' to have children
Australian Tour Dates
Australian Radio and TV
Australian Concert Ad
Australian Melbourne
$2000 "lucky" necklace stolen
Australia - Launceston
Australia - Brisbane
Australia - Perth
Australia - Canberra
Australia - Sydney
Australia - 1st tour report
Photograph
Timeline
---
Australian Concert Ad
The Dr Pepper Central Park Music Festival
Every day on the beach
MELANIE LAYS DOWN HER CANDLES
Timeline
---
IN CONCERT - MELANIE 1978 U.S. Tour
Phonogenic Not Just Another Pretty Face
Phonogenic Review
Korvettes
Melanie's Back (at Carnegie Hall)
Garden State Festival of Superstars
Radio Interview
MELANIE -- PIAF IN PIGTALS
Ballroom Streets
Tomato Biography
Timeline
---
Melanie's Got a Brand New Key
Lee County Arena
MELANIE '70s by Phil Symes
Timeline
---
One More Try
Beau Jarred born 11th Sept
The 1980s
Timeline
---
Ace of Diamonds
Arabesque
Timeline
---
Seventh Wave
Melanie the mum
Police halt Melanie's comeback
Timeline
---
Am I Real Or What
Am I Real Or What - review
Long Hair Gone But Not Her '60s Spirit
Melanie at Gerdie's Folk City
TIME IS ONLY A BEAT' FOR MELANIE'S ROCK 'N ROLL HEART
Timeline
---
The History of Rock 86
Timeline
---
---
Win the gratitude of thousands!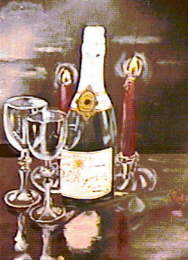 This picture, painted by my daughter Cynthia aged 16.
Here, to remember the Champagne Song Melanie was singing here in the eighties.
Plus all the other songs that never made it to disc.
Cowabonga
BBC Radio 2 Transcript (UK)
Beauty and the Beast
Record Collector:MARK PAYTRESS TALKS TO THE SINGER-SONGWRITER
ROLLING STONE
WHERE ARE THEY NOW?
Timeline
---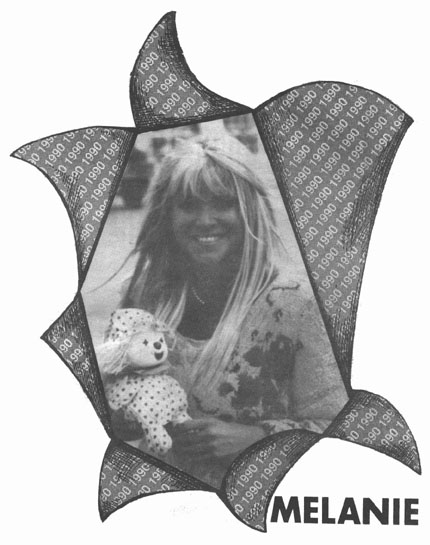 1990
DISCoveries
New York Entertainment Magazine (Nice Paper)
Timeline
Hi-Fi News & Record Review (Sleeve Notes)
A Flower Child Blooms Anew
Precious Cargo
Melanie's Brand New Key To Success
Interview by Craig Harris
Timeline
MELANIE letter March 1992
MELANIE Flower child chanteuse
Timeline
Family Gathering
Gold Greatest Hits (Sleeve Notes)
Duncan Theatre
Silver Anniversary
Melanie Christmas letter
Timeline
---
1994 MELANIE'S SILVER TOUR 1994
Tin Angel Concert Review at Grey Areas
IMAC
Melanie is skating back on tour
CATCHING UP WITH MELANIE
Freedom Knows My Name / Silence Is King
Freedom Knows My Name (Review)
Music is the key for Melanie
SIDMOUTH
Groove Fest
World Unity
FALL 1994 Interview: Heart To Heart With Melanie back issue available
USA Today Life
December 9th
Timeline
---
---

Finally a chance to play in her own back yard
From Woodstock to Now
People Magazine Article
Winnipeg Folk Festival
Maine Concert Review & Interview
Maine Interviews & Pictures
Unchained Melanie
The Old Meeting House of Francestown
Fall Fling Update extracted from Delaware Friends of Folk
Melanie at Fall Fling Festival
The Melanie Pieces By Felix Grant
---
Mays Chapel
Listening anew to an old, familiar voice extracted from http://wvgazette.com/Beat/IMBRO130.html
LowCountry CD
Hicksville
Turning Point
Yasgur's Farm
BBC recordings - On Air Johnny Black's Sleeve notes
Belgium Tour
de Tagrijn in Hilversum
Be Here Now
---
Very Best 98
Pinellas Outdoor Festival
Look what Melanie's done to the house, Ma
Beautiful People At Melanie's
Biography Magazine - Aug 1998 Where Are They Now?
The Turning Point
A Day In The Garden
Different vibes at Woodstock '98
Melanie Still a Citizen of Woodstock Nation
15 YEARS AGO…
---
Hard Rock Live show review
Mother Earth Music and Arts Festival
T-shirt
A Day In The Garden
Focus on a folk heroine
Buddha - Beautiful People
Brilliant - Beautiful People
Renaissance - Ring The Living Bell
Lay Down/Ruby Tuesday Single
Timeline
---
Shine On - The latest and Greatest
Zwolle
Melanie at Green Wood
Provincetown Music Festival
Melanie Biography 2000
Melanie draws largest crowd in Bluegrass Music Festival
St. Augustine. Florida
The Turning Point
Timeline
---
Main St. Cafe
Melanie at Green Wood
Timeline
---
Itinerary page for upcoming Melanie appearances.
---
Other years not yet available.
Please send anything you have by Email or Fax/Post by arrangement
---
---
Note:
I've been to most of the concerts in the UK, including Crystal Palace, Rainbow, Royal Albert Hall, Theatre Royal in London, plus Bristol, Manchester Hardrock, Glasgow, and more.. (I missed Edinburgh)
I haven't kept a diary since 1974, however I remember going to the following concerts in England, UK:
(after 1974)
19?? London Queen Elizabeth Hall
19?? Glastonbury (3-day Festival)
19?? Folkstone
1988 - Nov 24 at London Dominion Theatre
1989 April 20th and 21st at The Shaw Theatre,London Euston
Please send anything you have by
Email or Fax/Post by arrangement