GOLDMINE July 3, 1987 (US)
70s Rock by: Erik Himmelsbach
Melanie
Bubble Earth Mother
In an ever-expanding group of folky chanteuses emerging during the middle and late '60s, it was easy to put a label on an artist based on an obvious aspect of their work, to distinguish them from the rest of the pack. Joan Baez was a fervent anti-war crusader; Joni Mitchell was reflective and introspective. But Melanie, who combined elements of both Mitchell and Baez in her music — with a lighter touch and sense of humor — was tagged as a dippy hippie early in her career and it proved to be a musical albatross around her neck. Her shrilly, trembling voice and sweet, naively positive lyrics made her a novelty in the eyes of critics and public alike.
 Melanie's penchant for the offbeat began at an early age. Coming from a musical family — her mother was a jazz and blues singer — Melanie (born Melanie Safka in 1947) learned to play the ukulele by the time she was four.  Melanie was inspired to play guitar and perform after hearing Baez in the early '60s. She paid her dues performing in New York coffee houses and folk clubs in the mid-'60s imitating Baez (humorously recounted on At Carnegie Hall).
 Melanie's relationship with Columbia was short-lived. Only one single, an early version of "Beautiful People," was released in 1967. Radio at this time was saturated with flowery hippie anthems and found no room for the young singer with the thickly phrased, exotic sounding voice. Yet the song would later appear on Melanie's second, self-titled LP, and would become a staple of her live shows.
 It was back to the bars for Melanie until 1969, when she signed on with Buddah Records, best known for its stable of bubblegum groups like the Lemon Pipers and 1910 Fruitgum Company. It was a smart business move for Buddah, and they promoted Melanie as the bubble gum Earth Mother. She became the hippie as product.
 At first, Melanie did little to discount this image. The inside cover of her debut LP, Born To Be (later reissued as My First Album), featured her complete horoscope, rising signs and all. Although the LP gave the world its first dose of Melanie's quivering, child-like voice, the little notoriety Born To Be received was in nursery-rhymish tunes like "Christopher Robin," "Merry Christmas" and the ludicrous "Animal Crackers" ("Did you ever hear of Alice's Restaurant? / I eat at Alice's Restaurant year after year/ They make animal cracker pizza/ And give out animal crackers free with the beer/ Oh, let's give Alice a great big cheer/ She knows the age of the animal cracker is here . . . ) .
 Although she may have been dismissed as banal hippie mush early in her career, it was
<![if !supportEmptyParas]> <![endif]>
<![if !vml]>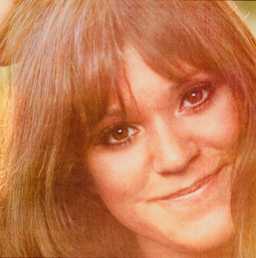 <![endif]>
Melanie
the performance of "Beautiful people" at Woodstock that gave Melanie significant national attention. Not only did she appear on the Woodstock 2 LP, but the three-day festival served as an inspiration for her first hit song, "Lay Down (Candles In The Rain)," which peaked on the U.S. charts at #6 during the summer of 1970. Additionally, her composition "Look What They Done To My Song, Ma," became a Top 20 hit for the New Seekers that same year.
 By this time the show-tuney arrangements of her first two LPs were scrapped in favor of a folky, acoustic sound. The result was Candles In The Rain. It became Melanie's first gold LP. At this point her live shows had become something of a religious experience for her devoted followers. Melanie would sit and play her guitar, while the audience would sit mesmerized, holding candles and passing flowers to the stage. Despite her constant shellacking by critics, there was an intense emotional bond between Melanie and her audience. On Leftover Wine, recorded at Carnegie Hall in 1970, fans can be heard yelling "We love you" during musical interludes.
 Melanie's timing was perfect in the early '70s. During her fleeting years of fame, she sold over 22 million records worldwide. It was a ripe period for women and their guitars. Joni Mitchell and Laura Nyro were gaining recognition as songwriters, while the grand old dame of folk, Joan Baez, had her biggest hit in 1971, with a cover of the Band's "The Night They Drove Old Dixie Down." But in 1972, Melanie was the biggest.
After having two Top 40 hits in 1971 with "Peace Will Come (According To Plan)," and "The Nickel Song," Melanie and Schekeryk struck out on their own, forming Neighborhood Records at the end of that year. The first LP on the Neighborhood label was a monster hit, the biggest of Melanie's career. The LP Gather Me featured the #1 tune "Brand New Key," which sold over three million. But the quirky little pop tune, while it should have been a breakthrough, was to be Melanie's undoing.
 Gather Me showed a big jump in the depth and complexity of Melanie's music.
She was moving away from folk and into blues, jazz and gospel. "Brand New Key" was not representative of the album as a whole, but it was effective in perpetuating Melanie's whimsical cartoonish image.
 Stoneground Words was an excellent follow-up, and went gold on the strength of "Gather Me"'s success but the single, "Together Alone," failed to dent the charts, indicating that people didn't want to hear Melanie as anything but the rock 'n' roll rag doll.
 Although she remained in the public eye as a spokesperson for UNICEF and through various albums and concert appearances, Melanie's career began a long, sad slide in 1973: Apparently tired of being the flimsy novelty, Melanie branched into other forms of music, covering more outside material, and avoiding the cute stuff. Perhaps as a result, people stopped listening. "Bitter Bad" from 1973's Melanie At Carnegie Hall was her last Top 40 hit.
 Because she stopped selling records, Neighborhood Records folded in 1975. In 1976 she attempted a comeback of sorts on Atlantic Records. The LP Photograph, is notable in that it is the only Melanie LP where Peter Schekeryk didn't have complete control over the final product.
MELANIE ALBUM DISCOGRAPHY

label

record #

 title#

date

Buddah

BDS 5024

Born To Be

1969

<![if !supportEmptyParas]> <![endif]>

BDS 5041

Melanie

1969

<![if !supportEmptyParas]> <![endif]>

BDS 5060

Candles In The Rain

1970

<![if !supportEmptyParas]> <![endif]>

BDS 5066

Leftover Wine

1970

<![if !supportEmptyParas]> <![endif]>

BDS 5074

My First Album (re-issue of Born To Be)

1970

<![if !supportEmptyParas]> <![endif]>

BDS 95000

The Good Book

1971

Neighborhood

NRS 47001

Gather Me

1971

Buddah

BDS 5095

Garden In The City

1971

<![if !supportEmptyParas]> <![endif]>

BDS 95995

Four Sides of Melanie

1972

Neighborhood

NRS 47005

Stoneground Words

1972

<![if !supportEmptyParas]> <![endif]>

NRS 49001

At Carnegie Hall

1973

Buddah

BDS 5132

Please Love Me

1973

Neighborhood

NRS 48001

Madrugada

1974

Neighborhood/Bell

NB 3000

As l See It Now

1974

Neighborhood/Arista

NL 3001

Sunset And Other Beginnings

1975

Atlantic

SD 18190

Photograph

1976

Midsong

MCA 3033

Phonogenic Not Just Another Pretty Face

1978

Tomato

TOM-2-9003

Ballroom Streets

1978

Blanche 

BL-6177

Arabesque

1982

Amherst

AMH 53302

Am I Real Or What

1985
 Instead, label president Ahmet Ertegun had a hand in the album. He's listed as creative director. To Ertegun, Melanie wrote in the liner notes: "For Ahmet, who got grapes to grow on the mountain and polyvinyl chloride to roll in the sheets." What he really did was streamline Melanie's by-then passé style, eliminating some of her indulgences in favor of a mid-70s mainstream sound. What he couldn't do was get the LP to sell.
 Since Photograph, Melanie has gone about quietly recording albums for small independent labels, playing occasionally at small venues and raising her two children. While Buddah has released a number of compilations through the years, the best retrospective set of Melanie is a live-in-the-studio LP on Tomato Records, called Ballroom Streets. Released in 1978, Ballroom Streets is a two-record overview of her career. Re-recorded chestnuts like "The Nickel Song" and "Brand New Key" mesh well with the more current reggae tinged "Miranda" Gone on Ballroom Streets was the childish creakiness of Melanie's earlier work, replaced by a grown-up smoky blues filled adult.
 Melanie has recorded sporadically in the '80s, basking in the irony of songs like "Rag Doll" (released as a single in 1984) and the 1985 LP Am I Real Or What. It seems as if she's come to grips with the forces that prevented her from becoming recognized as a talented prolific songwriter. At least she does have some sort of place in pop history—as the flower child with the guitar and the wide eyed voice that sang about sunshine, skate keys and beetles.
---
Back to Chronology
Back to Melanie
<![if !supportEmptyParas]> <![endif]>
<![if !supportEmptyParas]> <![endif]>
<![if !supportEmptyParas]> <![endif]>
<![if !supportEmptyParas]> <![endif]>
<![if !supportEmptyParas]> <![endif]>