29th anniversary concert draws a respectable orderly audience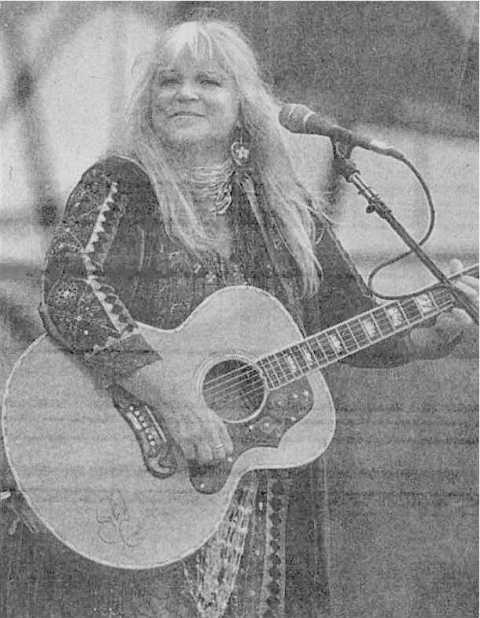 Melanie Safka, a former Long Branch resident who performed at the original Woodstock Festival, sings yesterday at the 29th anniversary concert in Bethel, N.Y.
THE ASSOCIATED PRESS
BETHEL, N.Y. For Mike Kowalik, there was one obvious difference between the original Woodstock and this weekend's three-day anniversary concert at Max Yasgur's old farm.
"You know what's good about this one?" he asked. "A lot of toilets.'
Kowalik, 55, said that while he relished the joyful chaos of the original concert, he appreciated the more organized '98 version that kicked off Friday.
Dads and kids swayed to reggae, bottled-water drinkers outnumbered pot smokers and concert; staff gave parking directions to beige mini vans instead of warnings about brown acid.
"It's a completely different scene," said Mike Feinstein, who wore a tie-dyed Grateful Dead shirt and fiddled with a cell phone. "We're grown up hippie's now. We have responsibilities." Patrons were greeted with everything from an espresso kiosk to 400 port-a-potties.
Security guards on horses and all-terrain vehicles prowled the festival's perimeter to avoid a repeat of the mass gate crashings of 1969 At least one Woodstock tradition held true; evening rain fell on
the crowd as headliner Stevie Nicks performed.
Promoters of "A Day in the Garden," which continues this morning, estimated that about 12,000 or more of the 30,000 tickets available for Friday's show were sold.
Slow ticket sales had prompted a two-for-one ticket promotion.
Concert-goers; who spread their blankets on the massive sloping hillside Friday had elbow room as Don Henley and Stevie Nicks performed.
The concert attracted a fair share of people who showed up for the original concert 80 miles north of New York in 1969. They found a site transformed from scruffy to respectable --- just like many of them.
"How can it be the same spirit? I'm 29 years older." said Frank Vania, who showed up in Bethel with the same friend he brought in 1969.
The festival was scheduled to continue through today. Woodstock veterans Pete Townshend and Richie Havens performed yesterday, along with Joni Mitchell.
Today is reserved for younger acts like Third Eye Blind and Goo Goo Dolls.
Ten Years After was the only original Woodstock band on Friday's bill.