Spin Offs 1978 USA
Singer Melanie comes to Carnegie Hall Saturday evening, in celebration of her 10th year as a recording artist. She has recorded 19 albums in that time and sold more than 22 million records. Included in her backup band are Randy and Michael Brecker, and the performance starts at 8 p.m.

Melanie at Carnegie Hall
---
June 6, 1978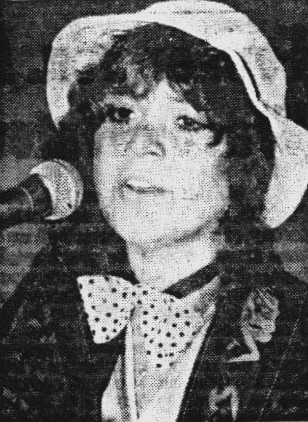 Melanie's back
and wowing them
---
Music / By WILLIAM CARLTON
---
Melanie made a triumphant return to the concert stage at Carnegie Hall Saturday night. The 31-year-old pop singer, whose powerful, soulfully quavering, voice has justly been compared to that of Piaf and Lenya, quit indoor performing five years ago.
Songs like "Brand New Key" and "Beautiful People" made her a superstar in the late '60s and early '70s, but they also saddled her with soft, furry, pop-pabulum image. Melanie went home to South Jersey in 1973 and started putting a new act together.
At Saturday night's concert—the start of an extensive lour and broadcast on WNEW-PM—the new, mature Melanie proved herself to be even more impressive than the old. She wisely devoted most of the night to songs like "Bon Appetite" and "Runnin' After Love,' which she wrote for her fine new album, "Phonogenlc," and to inspired interpretations of Jesse Winchester's "Yankee Man," or the unforgettable Carol Bayer Sager ballad "I'd Rather Leave While I'm In Love.' She could have played it safe and just strung together the hits.
Throughout the evening there was a touching exchange of feeling between adoring audience and adoring performer. The fans frequently ran to the stage, tossing bouquets to her and a handmade T-shirt with Melanie's name on it. Toward the end the audience not a sell-out but sizeable didn't bother sitting much, they just stood and cheered and hollered for the hits. They didn't get any till the second half and the many encores when she sang "Look What They Done To My Song," "Beautiful People " and finally "Leftover Wine".
"I feel I should make a speech," she said at the tumultuous end of the scheduled concert, "because I feel I've won something." She had.
---