Dec 1971 / Jan 1972
album reviews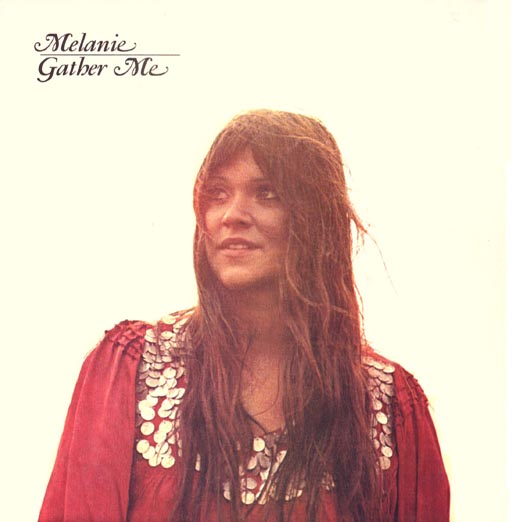 ---
unknown source
Melanie's latest offering just glows with contentment. Maybe I notice that because she said she's happier with this than any other album she's done but certainly this doesn't leave you with the bitter taste in the mouth you got from listening to "The Good Book" which was full of cynical and sad little songs. It also differs from the others in that it's a more produced album - the backings and arrangements are planned for effect rather than there just to keep her company. It all adds up to the best thing she's done and far easier to get into than most of her others. But there's still the carefree little girl we know and love present in things like "Someday I'll Be A Farmer" and "Brand New Key" an absurd piece of jollity you'd associate with Shirley Temple, and there's also the wistful Melanie on "Railroad" and "Little Bit Of Me" a song about being up and people trying to bring you down…..
---
unknown source
It would appear that everyone I know is in love with Melanie. And once you've seen her you realise that she is the enigmatic image of the seventies. With an air of innocence, she seduces the listener with her husky tones - perhaps Freud could put his finger on it.
Her child-like voice brings you close yet still keeps her unattainable from further intimacy. If you've seen her in concert, alone with only her guitar for comfort, you realise that all the orchestral arrangements on her albums are superficial and as far as this album is concerned, distracting. Melanie is a chanteuse, she doesn't need stereotyped accompaniment because the simple qualities of many of the songs on this collection loose their identity when dressed up in quickly disposable glad-rags.
This album can't fail to please her countless admirers, and once I had turned a deaf ear to the orchestra, I found the lyrics most absorbing and up to her expected standard. Perhaps in future we might receive an album of Melanie free from excess baggage, or if she must use extra accompanists let them be more simpatico, for let's face it, it is Melanie we want to hear. She's written all 14 songs and sings them with great charm……
---
unknown source
The main thing about Melanie's work - and something that comes through very clearly on this new album - is that strange combination she brings out musically that is part of the basic feel and simplicity of the early American music, criss-crossed with the mid-European patch of her vocal delivery. It's a voice that is both frantic and gently bawdy so that at times she sounds vulnerable and at others challenging.
"Gather Me" is the album she is best pleased with, and it is certainly an album that takes a little longer to get into than her past efforts. On the surface you may not notice the difference especially on the opener "Little Bit Of Me" which harks back to the past material about her constant loss of identity, and on "Brand New Key" which has that fey lyrical quality she's also evoked the past with numbers like "Alexander Beetle", but for the rest the numbers are a little more complex lyrically with sudden clever twists and great dismal dives that weren't noticeable before.
They are mainly tracks of searching and - ultimately - fulfilment. Like "Someday I'll Be A Farmer" and "Steppin'" ("I'm sorry I saw you I meant to stay blind") and the desperate blackness of "Railroad", the most despairing piece she's ever written: "my friend she did away with herself to a rock and roll band", all of which move on to the more hopeful tracks like "Ring The Living Bell" which has a huge almost religious build-up through it……..
---
unknown source
Melanie comes in for lots of snipes and admittedly, you need to get into her as a person as much as her music for full appreciation. But - Judy Garland of rock though she is - this is a fine album, full of high-bloom emotion and joyous praise.
The arrangements are superb, especially on the mild rock "Brand New Key", and the side one closer "Ring/Shine the Living Bell". Also the artwork is pleasing and this would make a nice Xmas present for anyone sighing over Melanie……
---
April 1972. Hi Fidelity (US) - M.J.
Melanie vocals and guitar: vocal and instrumental accompaniment. "Little Bit Of Me"; "Brand New Key"; "Ring The Living Bell"; "Tell Me Why"; 9 more.
Melanie has a sharp, emotion-ridden voice, one that can make a good song magnificent or a mediocre one tolerable. On her new album, the material is largely mediocre, consequently the end product is tolerable-decent but not equal to her last LP, "The Good Book", released on the Buddah label.
On "Gather Me" the lyrics are inconclusive. She seems to have something to say, but seldom makes it clear just what it is. Melanie's voice is so effective, however, that the album works when no attention is paid to such details as lyrics.
As background music, as a mood setter, it's fine.
---
June 1972. FUSION (US)
Melanie Safka has done pretty good by herself. Hit tune after hit tune, her own recording label and Donald McDonald on drums. At KIOA out of Des Moines her hit single was tied for Number One with Don McClean's "American Pie" for weeks.
When I first heard the cut I immediately flashed back to that old pre-puberty joke about parking cars in various garages, but I guess I may just be too jaded for my own good.
Oh wow, ring them bells.
---
Back to Chronology
Back to Melanie