THE RECORD - FEBRUARY 9, 1994
<![if !supportEmptyParas]> <![endif]>
Melanie: Dust Off Your Bell Bottoms
<![if !supportEmptyParas]> <![endif]>
Star of the sixties to play IMAC gig Saturday night
<![if !supportEmptyParas]> <![endif]>
By Danny deBruin
<![if !supportEmptyParas]> <![endif]>
            Although bell bottoms and beads are the latest dead fashion trend from the '60's to haunt the living in the '90's, don't mistake Melanie's latest CD Freedom Knows My Name as another retroactive piece of punishment from an era gone by.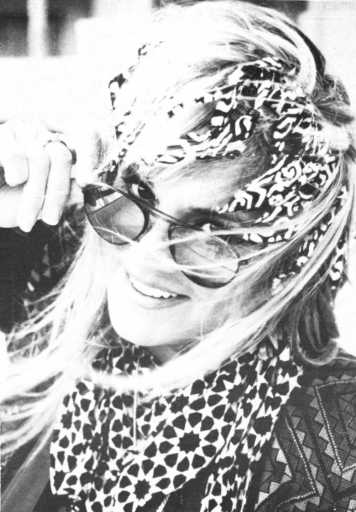 Melanie, who had such big hit songs in the early '70 such as Brand New Key and Look What They've Done to My Song will be performing at Huntington's IMAC this Saturday at 9:00 p.m. with her daughters in an acoustic set.
<![if !supportEmptyParas]> <![endif]>
            Her latest CD is a collection of refreshing songs that transcend time, and you don't have to be a former hippie to pick it up. And even better, Melanie will be appearing live at the Huntington IMAC on New York Avenue in Huntington Village this Saturday night at 9:00 p.m. Melanie will perform an "unplugged" version of her songs with a guitarist and her two daughters singing backup.
            Melanie, best known for her late 1960's and early 1970's hits Brand New Key and Look What They've Done to My Song, Melanie's 1970 album Candles in the Rain went gold in six months, earning her top female vocalist of the year from Billboard, Cashbox, Record World, and Melody Maker magazines.
            After recording 29 albums, Melanie, like other Woodstock era artists, will be celebrating the event's 25th anniversary along with her own wedding anniversary this summer. Melanie recorded during the 1980's, but found the American recording industry "resistant to anyone from Woodstock," as she put it during an interview.
            Corporate Rock and made-for-MTV bands dominated the '80's in America, leaving Melanie to tour and release her music in Europe, which she did with success. 'I started out in Europe back in the '60's," Melanie says. The late Keith Moon, drummer for The Who, introduced her at the legendary Isle of Wright Festival in England.
But during the '80's, Melanie found herself out of step with an industry bent on image and which she called production controlled, fashion minded, and "all hair styles. I prefer to listen to voices that have their own style, during the '80's you couldn't hear the essence of the person's voice," Melanie said. "There were so many effects used to cover the singer's voice."
            With her husband Peter Schekeryk, Melanie formed Lone Star Records, an independent recording label that signs both established and new artists. According to Melanie, small record labels were '*fighting for their lives" during the 80's. A group of independent labels joined forces and became formidable enough to successfully distribute their records.
            Although Melanie is the mother of three (two daughters. ages 18 and 20, and one 14 year old son), she finds the music of her children's generation appealing. "Some of the new bands are really good." she says. "[Eddie Vedder of Pearl Jam] has a really great voice, he can really sing." Other newer acts she appreciates are the Red Hot Chili Peppers, Tarence Trent D'Arby, and Sting.
            "I like all kinds of music," she says. 'I love Billie Holiday. Jazz, Three Penny Opera. The unfortunate thing about the music industry is the categories set up. Music should transcend all categories; musicians should be able to dabble in all kinds of music. I think music is the highest, most powerful form of an. Music takes people out of the drudgery [of day to day life]."
            Melanie has been playing at colleges and small venues, sees a mix of people in her audiences. "I've been seeing a lot of college age people who never heard me originally and the old hippies," she says. Still a hippie at heart, she laughs and says, "I call them people who have not lost their ideals."
            At 47 years old, Melanie has no regrets and has a life long list of memories that include Jimi Hendrix, the hippie era, and living through a radical period of change. "Woodstock was a spontaneous happening about a group of people, with a similar outlook on life, coming together. It was not about drugs and it was more than coming to listen to the bands. It was about being connected to humanity."
            'I've come to learn that life happens in cycles;" she said. "I've been through a personal experience of cycles, and have learned that things run in cycles. Hey, aren't people putting on bell bottom pants today?'
---
Inter-Media Art Center, lnc.
February 24, 1994
Peter Schekeryk
Lonestar Records
Dear Peter. .
I just wanted to let you know how special Melanie's February 12th performance at IMAC was. Even though we were in between two snow storms and heavily iced roads the packed house was just the 1st of a number of pleasant surprises. The 3-hour performance was wonderful for its high energy and the new material was as instantly enjoyable to the audience as some of her best known favorites. After three hours, three standing ovations and three encores the audience's continued exuberance was clear in that hardly anyone left before the performance was over and they would have stayed if she'd continued on.
We couldn't help noticing that this audience was a new audience to IMAC and that their love and dedication to Melanie was beyond anything we've ever seen at our theater, such as the number of people who travelled from great distances, the group of six that flew in from Minnesota, that family who rented a hotel for the weekend from New Jersey. The woman who had the most exquisite tattoo of Melanie on her upper shoulder and arm and the two hundred fans who stayed after the performance just to have a brief exchange of adoration.
And you , your family and your staff were a pleasure to deal with and we very much appreciate all the support we had from your organisation in helping set up all the media coverage surrounding the engagement.
Best of luck with all your projects and we look forward to having another Melanie concert at IMAC
Yours truly
Michael Rothbard
Executive Director
---