MELANIE 1978 U.S. Tour
IN CONCERT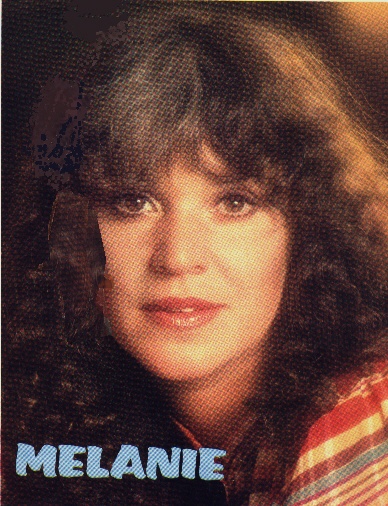 ---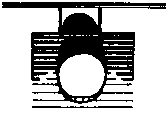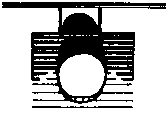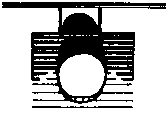 CREDITS
---
EDITOR'S NOTE A special note of thanks to Midsong International Records and especially Bob Reno, label president. MELANIE is no stranger to Bob. He has been in the foreground as well as the background of the Artist's career since 1967, when he was responsible for having her sign as a recording artist with Buddah Records. However, timing made it impossible for him to be around as MELANIE'S career took off, as she became a star to concert audiences and the record buying public throughout the world.
Four years later, in 1971, Bob Reno returned to Buddah. He opened the door there only to find MELANIE on the way out the other door - On her way to a new label, Paramount Records, where she recorded and . . . . . . . . . . . . . . . . ..
---
BOB RENO "Once again she was successful, Once again I sat and watched from a distance.
However, it finally happened
In 1977 I felt the time was right and offered MELANIE a new recording contract. She signed a recording contract with Midsong International Records. This time, as Midsong's president Bob Reno, was involved - for sure. I feel right in the middle of her continued success. Her new album, the upcoming U.S. tour is all 'great'. The new greatness follows one of her greatest creative bursts ever.
I'm happy and feel privileged to be instrumental in the career of a SUPERSTAR!

BOB RENO, President
Midsong International Records
---
MELANIE IN CONCERT PROGRAM
A special thanks to Scot Muni and WNEW-FM Radio Station in New York for making MELANIE and her Carnegie Hall musical performance available to the more than hundreds of thousands of fans - As it happens. Both Scot and WNEW-FM felt the performance to be a musical event, one that should be shared. Facilities were made available to broadcast the concert - 'live' as it happens - throughout the Tri-State areas of New Jersey, New York, and Connecticut. The June 3,1978 MELANIE concert is indeed an EVENT.
Tonight's performance is being presented by Music Fair Enterprises. Music Fair produces musical 'live' performances in the Northeast United States. They have offices in New York and Pennsylvania and are noted for producing 'The King & I," on Broadway, starring Yul Brynner
Music Fair also operates the Westbury Music Fair, Long Island; Painters Mill and Shady Grove, both in Maryland; and the Valley Forge Concerts, in Pennsylvania. The premiere concert of MELANIE'S 1978 - Tour of the Americas - at New York's Carnegie Hall, Saturday, June 3rd, was presented by Music Fair
Concerts...... ...... ...... ...... ...... ......
MELANIE'S 1978 U.S TOUR MELANIE IN CONCERT NEW YORK, BOSTON, PHILADELPHIA, HARTFORD, WASHINGTON, D.C.; THE PREMIER CONCERT, JUNE 3, 1978 NEW YORK, 8:00 P.M. CARNEGIE HALL. MELANIE IN CONCERT. NEW YORK, N.Y.

Melanie's talent agency and tour direction .. ........

Headliners East & West, NY,LA Rand Stoll, Michael Martineau

Melanie's record company . . .

Midsong International Records,lnc. Bob Reno

Melanie's musical producer and executive director ........

Peter Schekeryk

Melanie's musical horns .......

Randy and Michael Brecker

Melanie's record production co. .

Phonogenic Productions

Peter Schekeryk

melanie's costumes .........

Her own

sound and lights .............

tour and equipment mgr .... ..

creative services,art direction .

Jerry M. Powers

"IN CONCERT" photos

Dan Littlejohn

photo stylist, sets,direction .

Sandi Powers

tour publicist . ... .. . ..

Howard Bloom Organization

Melanie's rehersal studio

Studio Instrument Rental, nyc.

melanie's personal assistants

Pat and Sally

"IN CONCERT" program by

Lively Arts Advertising, nyc.

tour media adv director

Lucy Duncan
---
SONGS
Concert selections were made from the following ....
Cyclone

Knock on Wood

Spunky

Tuning My Guitar

Save Me

Yankee Man

I'd Rather Leave While I'm In Love

Bon Appetite

Ruby Tuesday

California Dreamin

Leftover Emotions

Babe Rainbow

Bobo 's Party

Any Guy

Nickel Song

I'm So Blue

Let It Be Me

Poet

Stoneground Words

If I Needed You

Photograph

Hand Me Downs

Haven 't Acted Like A Lady (Duped)

Secret of the Darkness

Friends and Company

Miranda

Ground Hog Day

Look What They Done To My Song, Ma

Beautiful People

Candles In The Rain

Brand New Key

Running After Love
---
BIO BIO BIO BIO BIO BIO BIO BIO BIO BIO BIO BIO BIO BIO BIO BIO BIO BIO

Ladies and Gentlemen We Welcome You to spend an intimate evening with..... MELANIE.

We are pleased - knowing that you have chosen to be with us, on this - the premier engagement of Melanie's 1978 Tour of the Americas.

This special preview also brings to mind that ten years ago, almost to the month, at another musical gathering - the Woodstock Music Festival, that Melanie became the international recording star that she is.

Just as her performance before a million people a decade ago started the explosion that led to her becoming the top female new star in the

American music scene - her performance here tonight- is sure to make the evening nothing less than a major musical event.
---
BIO BIO BIO BIO BIO BIO BIO BIO BIO BIO BIO BIO BIO BIO BIO BIO BIO BIO

Melanie surely is America 's most contemporary female performing and recording Artist.

Over the past decade she has left us with great entertaining musical memories with songs like;" Beautiful People," "Look What They've Done To My Song," "Nickel Song," and "Candles In the Rain," just to name a few. Along with making records, she breaks them:

Melanie was and still is the only female songstress in the past 20 years to have 3 single 45-RPM recordings on the top record charts - All at the same time!

More than 22 million people have shared her childlike charm, which only Melanie can transform into music.

We hope that you will share our joys and high energy excitement, both as a result of Melanie's new period as a performing artist and the success of her newest musical entry - in the form of a brand new album titled "Melanie - Phonogenic, Not Just Another Pretty Face," released by Midsong International Records, and distributed by MCA.

-JERRY POWERS
---
PLAYERS
MELANIE IN CONCERT - 1978 U.S TOUR - NEW YORK, CARNEGIE HALL JUNE 3rd; MELANIE IN CONCERT - 1978 U.S CONCERT TOUR BOSTON, BERKLEE PERFORMANCE CENTER, JUNE 15th; ; MELANIE IN CONCERT - 1978 U.S CONCERT TOUR PHILADELPHIA, ACADEMY OF MUSIC, JUNE 14th; MELANIE'S1978 CONCERT TOUR OF THE AMERICAS; WASHINGTON, D.C.; LISNER AUDITORIUM, JUNE 9th; MELANIE IN CONCERT - 1978 U.S TOUR HARTFORD, BUSHNELL MEMORIAL HALL JUNE 13; MELANIE IN CONCERT - NEW YORK, BOSTON, PHILADELPHIA, WASHINGTON, D.C MELANIE IN CONCERT - 1978 U.S TOUR - NEW YORK, CARNEGIE HALL JUNE 3rd; MELANIE IN CONCERT - 1978 U.S CONCERT TOUR BOSTON, BERKLEE PERFORMANCE CENTER, JUNE 15th; ; MELANIE IN CONCERT - 1978 U.S
CHRIS PARKER

DRUMS

SAL DITROIA

ACOUSTIC and CLASSICAL GUITARIST.

ROBBIE GEORGIA

VOCALS and GUITAR

GARY (COFFI) HALL . . . .

DRUMS and BACKGROUND VOCALS.

ROBERT MICHAEL LEONE. . .

ELEC'I'RIC BASS

DAVID MASON

KEYBOARDS

DONNIE McCRACKEN

GUITAR and VOCALS

TONY RAMOS

PERCUSSION

The IN CONCERT program for the MELANIE 1978 (U.S. Tour was produced by Lively Arts Advertising for the exclusive use of Midsong International Records, Inc., 1650 Broadway, New York, -New York.........

LIVELY ARTS ADVERTISING, INC. IS LOCATED AT 3 EAST 54TH STREET, NEW YORK, N.Y. 10022. TELEPHONE NUMBER (212) 935-4415. THE ENTIRE CONTENTS IS COPYRIGHT, 1978 BY LIVELY ARTS ADVERTISING, INC.
---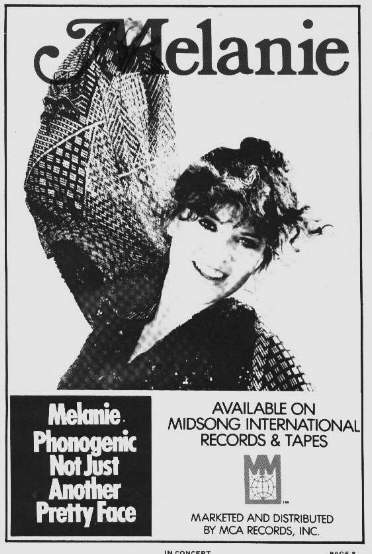 ---