Record Collector August 1989
M E L A N I E
MARK PAYTRESS TALKS TO THE SINGER-SONGWRITER ABOUT HER TWENTY-YEAR RECORDING CAREER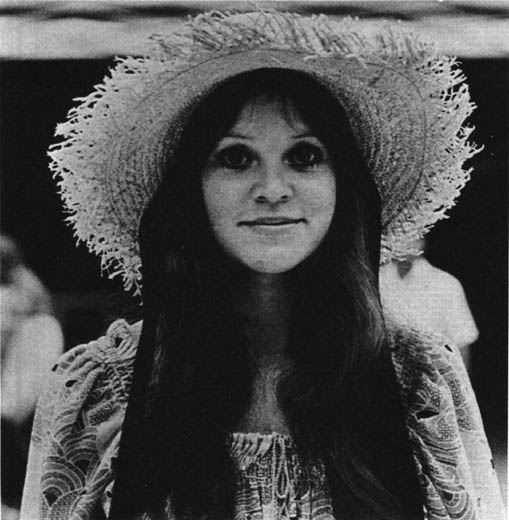 M

any of the acts at Woodstock were already well established names, but if anyone can claim to have been broken by the festival, it must be Melanie. Songs like "Close To It All" and "Beautiful People" mirrored the times perfectly and, before long, the singer found herself surrounded on stage by dozens of cross-legged admirers at every concert she played. Melanie became one of the most successful female artists during the early Seventies, enjoying Top Ten hits with "Ruby Tuesday" and "Brand New Key", and was also a favourite with the album buying public. But from the mid-Seventies, her career slowed considerably, and by the start of the current decade, Melanie's new recordings were only available on import. Recent U.K. appearances have shown a different side to her music, but audiences still hand her expensive bunches of flowers and call out "We love you, Melanie!" Once she would have giggled nervously; today she just says "Yeah?" and gets on with her songs.

Somehow, Melanie never quite fitted in with the singer-songwriter genre of the late Sixties/early Seventies, even if she looked the part with long, flowing hair, sandals and Eastern print dresses. Her voice was a far cry from the pure tones of her contemporaries, and the soul-baring on her best material is more akin to John Lennon than to Carole King or Joni Mitchell. For some, '«She is to the Seventies what Dylan was to the Sixties"; others, like NME's Roy Carr, regarded her as "a Marjorie Proops with a guitar". While an excellent, if erratic tunesmith, Melanie's real strength was her particularly distinctive vocal warble but as with Bolan, this tended to polarise audiences. Her recent concerts have proved this voice to be remarkably resilient, and her followers seem far more receptive to the material, which allows her to test its strength. On her last visit, I put the memory of this remarkable singer to the test, and found it to be in equally good shape.

Those who believe Melanie was weaned on a diet of Dylan and Beatles may be in for a shock: "I was a big Lotte Lenya fan. (Lenya was married to composer Kurt Weill and sang on many Brecht/Weill recordings.) Though my mother was a jazz singer, and I grew up listening to a lot of blues and jazz like Billie Holliday, I discovered Kurt Weill and Edith Piaf in my mid-teens. I think my whole style of singing began with a dream to sound like Lotte Lenya, but at 15, it's very difficult to sound like a 45 year old woman!" In fact, despite projecting older, wiser women, it had the opposite effect and Melanie's voice soon acquired a child-like quality.

Born in a New York suburb on 3rd February 1947, she was encouraged to sing by her mother, and won her first contest at the age of four. By her teens, she'd swapped her "embarrassing" baritone ukulele for an acoustic guitar and set about learning every minor chord: "My first 100 songs were all in E and A minor," she recalls. Little wonder, then, that Melanie soon acquired a Lonely-Hearts Club-type audience.

By the age of 17, while she was studying at the American Academy of Dramatic Arts, she sang in Greenwich Village coffee-houses and became known as a "street singer". Her move into the recording world was entirely fortuitous. Called for an acting audition at 1619 Broadway, Melanie found herself in the lobby of a massive skyscraper, wondering which way to turn. After much frantic running around, she eventually found the room and turned in what she felt was a good performance. On her way out, she was stopped by someone who'd helped to direct her, and who now wished to know how she'd fared. Noticing the guitar (the part also required her to sing), her guide asked her to step inside what turned out to be the offices of Hugo & Luigi, a major music publishing company. She was invited to sing some of her songs and told to return the following week. Peter Schekeryk, an up-and-coming producer then having some success with the Marshmallows and Balloon Farm, took an instant interest. Melanie recalls: "We hit it off; ran away to Atlantic City, and had three children!" In the meantime, Peter gave up his production rights to his other acts, became Melanie's producer and husband making her a star in the process.

RISK

Her first discs were low-budget recordings, on which Peter took a risk by paying for an orchestra to back her in a studio designed for demo recordings. "Beautiful People", backed by "God's Only Daughter", became a radio play hit, although like its follow-up, "Garden In The City"/"(Why) Didn't My Mother Tell Me?" (Columbia 4-44524), it's extremely rare, particularly in the U.K. where it was never released. Clive Davis had signed Melanie to Columbia, and saw her as a slick artist in the M.O.R. mould. "I was still considered a little too weird to be mainstream, so they allowed Buddah to buy out my contract." It was for Buddah that Melanie recorded her classic material, from the loosely focused "Born To Be" debut, through to 197l's classic "Gather Me" sets. The label's bosses Artie Ripp, and in particular Neil Bogart, were wholly supportive of Melanie's style and gave her carte blanche in the studio; something she later regretted, for after she left to form her own label, Buddah scraped the barrel with un-issued recordings and endless compilations.

"Born To Be" preceded Woodstock by several months, and is now a long-deleted collector's item. In the U.S., it was repackaged after the festival as, "My First Album" (BDS 5074).

The record was something of a potpourri that defied easy categorisation. On the one hand there were obvious nods in the direction of the French chanteuse style on "In The Hour" and "I'm Back In Town", but the setting of "Christopher Robin" and "Merry Christmas" to music was something else altogether. Also in there were her own "Bobo's Party", "Close To It All" and a hair-raising "Mama Mama", which pointed the way forward. Right from the start, Melanie has enjoyed recording other writers' work, and for her debut, she threw in Dylan's "Mr. Tambourine Man", which was culled as a single for U.K. consumption.

"Bobo's Party" (which she recorded for the German TV programme "Beat Club", along with "Animal Crackers") was an equally unsuccessful follow-up.

REVOLUTION

On that same European visit, Artie Ripp brought Melanie to London, where she recalls being forced to sit in with Yes at the Revolution Club. In fact, the whole episode was somewhat soul-destroying for her, being forced to 'hang out' in clubs and suffer the phoney side of the rock business. It took just one performance that summer to change all that. Following Ravi Shankar at Woodstock was a tall order, let alone doing so just as the rain began. Nevertheless, the reception of "Beautiful People" and "Birthday Of The Sun" on "Woodstock II" confirm the view that she was ecstatically received. Her second album, "Affectionately Melanie", still featured her attempts at being a chanteuse, but the balance was swinging firmly in the direction of the innocent, lonely, flower-child folkie. "I want you to see me naked," she wrote in the sleeve note, and proceeded to bare her soul on songs like "Tuning My Guitar" and "Uptown And Down". The world was filled with Woodstock euphoria (let's keep Altamonte out of it), and Melanie joined a host of others by penning her own anthem to the Age of Aquarius.

"Lay Down", for which she was joined by the Edwin Hawkins Singers, gave her a Top 10 hit in the U.S. in May 1970, although it failed to create a stir here.

It was her version of the Rolling Stones' "Ruby Tuesday" which finally broke Melanie in the U.K. It was an anguished rendition, and a far cry from the plaintive version recorded by the Stones. At the same time, the New Seekers were enjoying a U.S. hit with their version of "What Have They Done To My Song, Ma?" something the writer must have asked herself on several occasions. Melanie's version appeared on "Candles In The Rain", which was a Top 5 hit on both sides of the Atlantic and confirmed her status as one of the finest singers of her generation. Not only was her own material gaining in strength, her reputation as a fine interpreter of songs was fast spreading. The version of James Taylor's "Carolina In My Mind" is a good case in point.

Just before she broke big over here, Melanie was invited to appear at the final Isle Of Wight festival. Unfortunately, her treatment by the organisers was poor, and though scheduled to appear at 8.00pm on the Friday evening, she finally walked on stage at 5.00am on Sunday morning. However, her U.K. fans were able to catch her on 'the Johnny Cash Show' on 29th October, and in December, when she made several T.V. and radio appearances including BBC 2's "Disco 2".

"Candles In The Rain" was quickly followed by a live album, "Leftover Wine" which included one studio recording, "Peace Will Come (According To Plan)", the less successful follow-up to "Look What. . ". The LP boasted some truly fine moments, and proved that Melanie was at least as good when not accompanied by the session musicians who appeared on her studio recordings. "The Saddest Thing", "Mama Mama" and "Uptown And Down" were stunning, eclipsed only by "Tuning My Guitar" which, for me, stands as the singer's finest recording. By the end of the year, it was no surprise that readers of 'Disc & Music Echo' voted her the most popular female vocalist in the world. She was.

1971 saw the release of two albums, "The Good Book", and a soundtrack LP for the "All The Right Noises" movie. Melanie remembers writing the music for the latter in London during the Woodstock build-up, but was particularly disappointed with the results: "It was most embarrassing, because just as the actress was taking off her clothes to hop into bed, I start singing." As with many soundtrack albums, she only appears on some of the record; the rest is orchestrated versions of her themes. Later in the decade, she wrote a second soundtrack for "R.P.M.". "I figured Hollywood's not for me," she decided afterwards. Both are now particularly tricky items to find.

Her first album 'proper' since "Candles In The Rain" was "The Good Book", a not wholly successful follow-up, which nevertheless contained some fine moments in "Babe Rainbow", "The Saddest Thing" and "Birthday Of The Sun". Its best known track was "The Nickel Song", which became a minor U.S. hit in the quest to find the perfect successor to "Brand New Key". U.K. copies came in a brown 'vinyl finish' sleeve, with a lyric booklet on the inside cover, while the U.S. royal blue edition featured a six-sided sleeve and wore its booklet on the front cover. Once again, it provided Melanie with a Top 10 U.K. album.

NOVELTY

One novelty song always breaks through into the singles' charts during the Xmas period, and Melanie's "Brand New Key" fulfilled this function perfectly as 1971 drew to a close. It was her biggest hit on both sides of the Atlantic, spending three weeks at No.I in the U.S. Even the most casual pop fan will instantly recognise the infectious "I got a brand new pair of roller-skates, you got a brand new key" chorus (some U.S. radio stations, fearing corrupt innuendo, banned it from the airwaves), but Melanie's own fans may not know that a whole four hours of studio time was spent 'preparing' a piano with paper clips, tacks and clothes pegs. This produced the instantly hummable 8-note piano refrain, and may be the first time such a technique was used on a No.1 record. Eat your heart out, John Cage! What Melanie didn't conceive was the "hump-ah-ha" backing vocals, which were added later. I asked Melanie just how much say she had in the studio: "I had total control because I was married to the producer," she stated emphatically, before qualifying it. "There were lots of things that he did which I didn't agree with, but I'd let him have his way 'cos he got me hit records!" "Brand New Key" also ended up on Arcade's "20 Fantastic Hits".

"Gather Me" boasted two other obvious singles in "Ring The Living Bell" and "Some day I'll Be A Farmer", and the whole record had a distinctly less 'folk' feel to it. After its completion, she was telling reporters of her desire to branch out. An LP of 50s rockers entitled "Melanie Gets Greased", and an LP of children's stories were just two possibilities.

Instead, she decided to form her own company, Neighbourhood Records, together with her husband.

But that wasn't the end of the Buddah era.

The memory of those records still rankles with the singer, who was fed up of being promoted as the nation's flower child. "Some of the sales techniques were so shabby," she said, "so I sued them later on, 'cos enough was enough". But not before "The Very Best Of Melanie", "Please Love Me", "Four Sides Of Melanie" (with a cover illustration depicting Peter as the Devil!) and "Garden In The City" had swamped the market completely. The latter is by far the most interesting for its selection of un-issued material, including covers of the Stones' "Jigsaw Puzzle" and Dylan's "Lay Lady Lay". One of the best tracks was "Don't You Wait By The Water", but the histrionic scat vocals weren't every one's cup of tea as contemporary reviews made clear. If you're lucky, the scratch'n'sniff cover ("rub gently to release the magic of Melanie's garden") should still smell, although contrary to the belief of some parents, the fragrance used had nothing to do with illicit substances.

During this period, the U.K. 'Melanie Music Society' sprung up, issuing newsletters and defending the singer in an increasingly cynical press. Melanie appeared at the 1972 Crystal Palace Garden Party and later undertook a world tour on behalf of UNICEF. The European dates alone raised $335,000. The period between the departure from Buddah and the first release on Neighbourhood marked a turning point in Melanie's career. Her claim that "I made a conscious attempt to take a giant step away from the limelight" is backed up by contemporary events. First, there was the announcement that she was expecting her first baby (Leilah, born in October 1973). A second indication was the absence of new material until "Stoneground Words" appeared at the end of 1972. This saw a marked shift in the singer's style: out went the whimsy and the mantras; in their place was a solid set of personal material designed to bury that girl-next-door image for good.

The record came lavishly packaged in a photo album type sleeve, complete with a pack of 12"xl2" photographs, and the songs 7n were given lavish treatments by her arranger Roger Kellaway. Neither "Together Alone" nor "Do You Believe?" made much impression on the singles' chart, so Melanie tried with two non-LP cuts, "Bitter Bad" and "Seeds". Although in a lighter vein, these too failed to repeat the success of "Brand New Key", and are now sought-after items.

1973 also saw the release of a second live album, the specially-priced double set "Live At Carnegie Hall", and the "Glastonbury Fayre" movie which included Melanie's performance of "Peace Will Come". Most elusive now though, is the "A Gift From Honey" flexidisc, which included a selection of recent recordings. Expect to pay around £5.

Whilst pregnant and obviously off the road, the singer wrote much of what became 1974's "Madrugada" album. Although her effort was eased by the inclusion of several cover versions such as the Stones' "Wild Horses", Jim Croce's "Lover's Cross", Randy Newman's "I Think It's Going To Rain Today" and Woody Guthrie's "Pretty Boy Floyd". Her version of Goffin/King's "Will You Love Me Tomorrow" was lifted as a single, again housed in the generic Neighbourhood sleeve (green, with white lettering). If Melanie's writing, and the sound of her records, had mellowed, that wasn't all. When the crowds began to clamber on stage at her 27th birthday concert at the Metropolitan House, New York. She asked them to return: "It's just not the time anymore," she told them. She continued to appear on stage for worthy causes, though, and appeared alongside Dylan, Phil Ochs, and Arlo Guthrie at the Friends of Chile Benefit after the U.S. had helped overthrow a democratically elected government.

That spring, she embarked on her first U.S. tour in over a year, accompanied by a band; but when she made a one-off appearance in London in June 1974, she took to the stage alone. "That's when I got the brick thrown at me," Melanie remembers. "I thought I got shot " Apparently, someone took a major dislike to her Rolling Stones' covers and wanted the world to know it. The show was broadcast by Capital Radio, with a view to releasing it as an alburn, but brick aside, the project was shelved Melanie was probably rather relieved to cancel a scheduled U.K. tour in the autumn due to the announcement that a second baby was on the way. I presume Jeordie, born in March 1975, was not named after the band (her first child was named after the Derek and the Dominoes song). She was back here again in October 1975, accompanied by guitarist Barry Harwood, and her tour climaxed with a three-hour set at the Albert Hall. To coincide with the visit, Neighbourhood followed the issue of "As l See It Now" with "Sunset And Other Beginnings", then packed it in.

Peter Schekeryk missed a chance to sign the young Springsteen, and the only other major artist to appear on the label was Mike Heron's Reputation. Heron and Robin Williamson joined Melanie at the Drury Lane gig and a live version of "Chart Song" from the concert appeared on "As I See It Now". The pair backed the singer on much of the LP.

"Sunset" contained its fair share of covers including "You Can't Hurry Love — Mama Said", which was lifted as a single. Another track, "Almost Like Being In Love", was coupled with a live version of "Beautiful People" as a single, but Melanie was not to make her next chart showing until 1983.

In the meantime, she signed a contract with Atlantic, who issued the highly acclaimed "Photograph" in 1976. Sadly, this was for U.S. consumption only, although many fans believe it to be an improvement on its two predecessors. From this time on, her recordings became increasingly obscure in the U.K.

RCA issued 1978's "Phonogenic — Not Just Another Pretty Face", while the double live "Ballroom Streets" came out first in Italy.

By 1979, Melanie had written her own musical based on the life of Calamity Jane, which has since been shelved due to the untimely death of the producer.

A son, named Beau Jarred, arrived in September 1980, and Melanie kept a low profile until 1982's "Arabesque", which she promoted here by appearing at Glastonbury. With all media eyes fixed on the post-punk stylists, demand for Melanie reached a low. When she arrived for a concert at the Albert Hall, she discovered that the promoter had fled the country, leaving several hundred ticket holders hoping to see the singer. Melanie turned up at the venue and played to them on the steps until the police appeared threatening to arrest her. "I didn't know my career had plummeted to the depths," she recalls. "You had to have a Mohican or nothing then."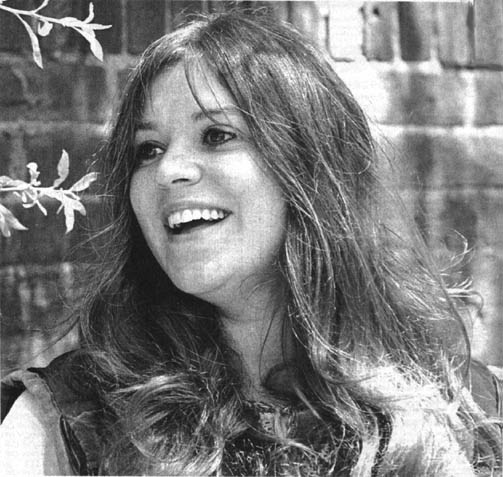 Melanie at the time of her greatest British success, with the "Brand New Key" single in 1972 - an uncharacteristic novelty hit for a singer-songwriter better known for more personal material.
FICKLE
Until recently, Melanie has stuck with her less fickle European audience, and says of Britain, "Why come somewhere where they don't want you?" In 1983, Neighbourhood was resurrected for the release of "Seventh Wave", which was issued here in a decidedly inferior cover of — you guessed it - a wave.
The single, "Every Breath Of The Way", reached the lower regions of the U.K. charts, but it has taken six years for the singer to follow it up with new product in Britain.
In 1985, "Am I Real Or What" only appeared in the U.S. and West Germany, followed by the Dutch album "Melanie". All we had in the U.K. were more substandard compilations.
The good news is that, in the 20th anniversary of Woodstock, Melanie has struck up her first proper deal in the U.K. for many years, and her latest album, "Cowabonga", has been promoted with a couple of recent visits. Containing one stunning performance in "Racing Heart" the album reveals a new dynamism to Melanie's music. A re-working of "Ruby Tuesday" provided her with an obvious choice for a single, although it paled when compared with the original recording. The main problem with the move to a full sound has been that Melanie's strongest point — her voice — has been somewhat submerged under an AOR rock sound not dissimilar to Starship/T'pau territory.
This summer, she is booked to appear with Richie Haven's Woodstock anniversary tour, something she declined to do ten years ago: ten years ago, I would have said go away. I never wanted to make a career out of the nostalgia thing, but I don't feel any danger of that. I know we're going to Russia. I played at Gorky Park during the Peace Summit, and when I sang 'Beautiful People', everyone knew it." It is no surprise that Melanie's most vital recordings date from her heyday at the turn of the Sixties, however much she may try to transpose an Eighties' sound into her work.
The intensity of her music stood out then, as it does now, and if Melanie must be regarded as a leftover wine from the Sixties, then be in no doubt that she's an extremely good one.
---