I am certainly Melanie's earliest Fan. We were in Kindergarten thru 4th grade together at grade school in Bayside, Queens, NY (PS41).  
She performed in our school assembly's with her ukulele.  As years went by, I heard a singer "Melanie" singing at Woodstock (1969) and on the radio, I wondered if it was the girl I knew.  I went to a record store and saw the name Melanie Safka.  In the days of parents trying to control what kids will grow-up to be, she always loved singing and she stayed with it.  She is the only person I know from my childhood who had a dream and made it come true.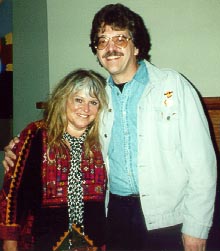 She moved a lot when she was growing up and had lost her old class pictures.  I had copies made and sent them to her. 
I heard she was performing at "The Turning Point", I went to meet her again after almost 40 years.  She and her husband thanked me for these pictures.  We sat and talked for quite a while.  I saw her again while on-duty with the Oakland Ambulance Corps at the Ramapo Folk Festival in Oakland, NJ (my hometown).