WEDNESDAY

, JULY 27. 1994

LIFELINE

A QUICK READ ON WHAT PEOPLE ARE TALKING ABOUT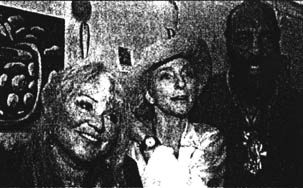 BETHEL BOUND:

Judy Collins, centre, and Woodstock '69ers Melanie and Richie Havens will perform Aug. 13-14.

By Joe Tabacca, AP

The feuding Woodstock anniversary concerts have found peace. Or at least a legal settlement Woodstock Ventures, organisers of Woodstock, has reached an agreement with the group putting on the Bethel '94 concert. No details were given, but the Ventures group was asking for $80 million, claiming among other things, trademark Infringement. "We're optimistic that this has gone away," said Jonathan Reichman, lawyer for Woodstock Ventures Meanwhile on Tuesday, singer Judy Collins and Woodstock '69 veterans Melanie and Richie Havens introduced a "Declaration of Civility and Kindness" to promote Bethel '94, where they'll perform Aug. 13-14.
---