<![if !supportEmptyParas]> <![endif]>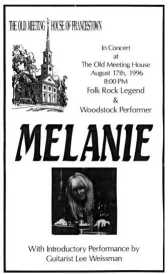 <![if !supportEmptyParas]> <![endif]>
<![if !vml]>
<![endif]>MELANIE From the moment she opened her mouth to sing in front of one half million people at Woodstock in 1969, it's been obvious that Melanie is no ordinary artist. Some twenty-seven years later, Melanie is still singing with her sweetly gravel-edged voice. A voice that prompted New York Times critic John Rockwell to comment: "Charismatic! Her gifts are so enormous and so palpable, a magical sense of phrasing." It is this voice that enthralls her audience, that communicates deeply and directly with them. And to Melanie, her audience is her life source. The simple joy of singing and making music has kept her moving steadily through the ups and downs of any artist with a long-term career.
She was born Melanie Safka in Astoria, Queens, New York. Her mother was a jazz singer and introduced Melanie to her first radio show at the age of four. She spent her childhood in New York, graduated high school in New Jersey and attended the American Academy of Dramatic Arts in New York and the Penland School of Crafts in North Carolina. During this period she was heavily involved in acting and performed in summer stock theater productions. Soon Melanie met her husband/producer/manager Peter Schekeryk. Her first major NYC club appearance at the Bitter End was followed by Town Hall, Woodstock, a sold out Carnegie Hall show, and the rest is history. Melanie was the first solo Folk/Rock artist to perform at the Metropolitan Opera House in NYC, London's Royal Albert Hall, and the Sydney Opera House in Australia. She was also the first female rock artist to have three records simultaneously on Billboards Top 40. To date Melanie has recorded over thirty albums.
Her tenure in the business has brought her some wonderful associations. Melanie received a black rose from John Lennon when they shared the stage at Madison Square Garden, spent ten hours on a plane with Jimi Hendrix, and still has the drum stick Keith Moon presented her when she followed THE WHO on stage at The Isle of Wight Festival in 1970.
For the last decade Melanie has performed to sold out audiences all over Europe. She was invited to perform at Olympic Stadium in Moscow during the historic Peace Summit of 1988; and performed a song she wrote especially for the 50th Anniversary of the United Nations General Assembly. She headlined The Sidmouth Folk Festival in England in 1994 and the Dranouter Folk Festival in Belgium in 1995.
Melanie's relationship with her audience is to her one of the cornerstones of her career. Recently Melanie explained her love of performing: "That feeling of laughing and crying at the same time, that's what I want people to walk away feeling - a little more in love with the human race, a little more kinship with the person next to them." It is little wonder then that Melanie's fans are intensely loyal no matter what music is in vogue.
Melanie is celebrating her 25th year in music with the release of her Silver Anniversary CD sometime this summer in the US and 'Old Bitch Warrior' on BMG records in Europe (expected US release fall 1996). She will be touring North America extensively this summer accompanied by daughter Jeordie Schekeryk, and guitarist Lee Weissnan. A tour including such festivals as Winnipeg Folk Festival in Canada, and Bethel. Her newest CD "Unchained Melanie" will be on sale in the foyer of The Old Meeting House after the concert.
<![if !supportEmptyParas]> <![endif]>
THE CONCERT WILL BEGIN AT 8:00 P.M.
<![if !supportEmptyParas]> <![endif]>
During a twenty minute Intermission,
refreshments will be available in the foyer
<![if !supportEmptyParas]> <![endif]>
proceeds from the sale of refreshments benefit
The Francestown Community Preschool
<![if !supportEmptyParas]> <![endif]>