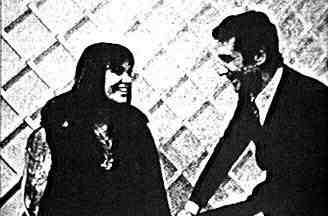 With Gilbert Becaud at the Olympia, Paris
Olympia Reviews
(French to English translation by Janice Doxsey)
---
Melanie the success of MIDEM is the American star of the Gilbert Becaud spectacular at the Olympia from the 19th February to 16th March, Melanie's records are often heard on the radio and her records sell very well. Her performance at the Olympia will further strengthen the sale of her LP.
---
Following the jugglers was Melanie, star of the last MIDEM festival at Cannes. This hippie singer is not without quality, but she is a little too gentle to be a 'star'….
---
Melanie closed a good first half. Beneath this old-fashioned name hides a singer who is really alive now. She sings as though she had black skin, and with your eyes closed the illusion is complete, but open your eyes quickly because Melanie is really very beautiful….
---
In the first part there was a young American singer whose name did not immediately tell this. She sings sitting down, accompanying herself on the guitar. She has feeling, so has Julian Clere. These two people are really only at the dawn of their careers.
---
1p.m. Channel 2 Colour "Show Killy"
Melanie, the beautiful American beatnik makes a fine debut in France:- at the Olympia and on the Jean Claud Killy show. It looks as though she's going to be a star….
---
NO FRILLS FOR THIS AMERICAN
by Alan Jones - Jan, 1969
---
Melanie's 12-minute appearance was sandwiched between a troupe of Algerian jugglers and an illusionist from Lyons.
A murmur of applause rippled through the Parisian family audience when she strummed her guitar into the opening chords of "Bo Bo's Party".
For Melanie was number six in the French charts with the bitter-sweet song about a young girl who goes to an off-beat party.
Melanie is a New Yorker. She's being called the Voice of 1969 on the strength of her first album "Born To Be". Bob Dylan has shown an interest in her songs and she is tipped for international stardom.
What makes her out from hundreds of other singers is the range of her voice. She switches smoothly from a hard, metallic ring to a sweetness that would be the delight of any school choir.
Off-stage, Melanie is an unassuming 21-year-old ex-college girl who prefers her mum's Italian cooking to dining out in French bistros. She looks like the girl-next-door with her long black hair, fringe and big, brown eyes. But not everybody goes for Melanie's natural looks and no frills stage act. One head of an American company complained she was not commercial enough for the pop scene.
Even when she reached France with a top-selling single and a £400 a week contract with the Olympia, the theatre's director tried to get her to revamp her act and give it a bit more show biz zip.
The director wanted Melanie to appear in a blast of psychedelic lights with a troupe of hip-shaking, scantily dressed girls, Melanie refused. He retorted that she wasn't "singing in the trees now" but in show business. Much to her own surprise Melanie snapped; "If that's the business you're in ___ I'm not in it".
But the director was right in a way. While campus audiences back home sat quietly listening, older French ones were not quite so happy with Melanie's folky tunes. The act was not wild enough, said Melanie, explaining the uneasy quiet of that night's show. But other nights have been worse.
There were boos and shouts of "Go home American".
---
Back to Chronology