MELANIE - RUBY MONDAY

Whilst the 2nd August is our Ruby Tuesday, Monday 1st sees the appearance of Melanie, star of the American Woodstock Festival 1969, in a double Anniversary Concert. The 25th anniversary of her career, as well as our own coming of age, we are thrilled to be joined by this eminent singer for the Monday night Arena show 8pm. During her brilliant career, Melanie bas notched a number of memorable hits including Ruby Tuesday, Brand New Key and Look What They've Done To My Song, Ma! Tonight she will be performing old favourites and new material alike - in her only British appearance on her worldwide tour. She appears with her family band. An unmissable opportunity to see a fabulous performer from the halcyon days of the late '60s. Melanie will be supported by dynamic cabaret duo, The Topp Twins, from New Zealand.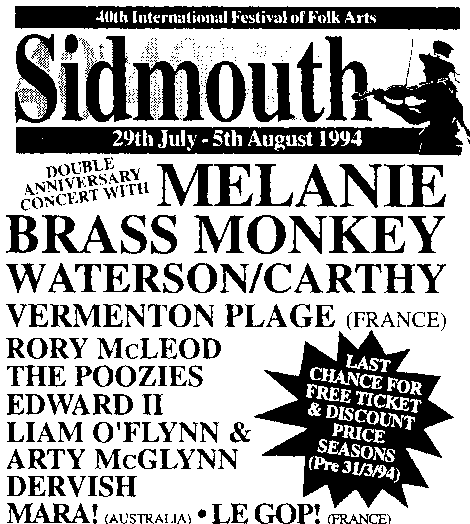 RUBY MONDAY --- STAR OF WOODSTOCK TO SHINE AT SIDMOUTH
Monday 1st August 8pm
We are thrilled to bits to be joined in a double-Anniversary concert by the star of the American Woodstock Festival 1969, the fantastic Melanie.
Not only our own 40th celebration, the 25th anniversary of Melanie's career, in which she has notched up a whole string of top chart hits. She is most fondly remembered for her renditions of Ruby Tuesday, Brand New Key and What Have They Done To My Song, Ma? And will be performing old favourites and new material alike at the festival (her only British appearance on her world-wide tour). She appears with her family band. Not to be missed! Plus the Topp Twins, dynamic cabaret from New Zealand * Book early for dramatic savings.
---
Melanie sings Ruby Tuesday on our Ruby Monday!
We are thrilled to be joined by the star of 1969's Woodstock Festival at 8pm on Monday 1st August at the Arena -- an un-missable chance to see Melanie.
Melanie is accompanied by her two daughters and a guitarist and is sure to be treating us to highlights of her splendid career, particularly from the salad days of the 60s, with hits such as Ruby Tuesday, Brand New Key and Look What They've Done To My Song,
Melanie also marks another Anniversary, that of 25 years in the business. In those twenty five years, she has notched up some pretty impressive achievements -- the first ever solo popular performer at the Royal Albert Hall in this country and the Carnegie Hall in the States, she has sold over 25 million records! No mean feat! Our very own Ruby Monday leading up to a very special Ruby Tuesday. We can't wait!
---
SIDMOUTH'S 'ruby' Folk Festival intends to live up to its star billing as the jewel in the international folk calendar.
Organisers are going flat out to ensure that the 40th anniversary of the Intentional Festival of Folk Arts goes to plan.
A dedicated team has spent months in the planning stages fine-tuning the festival programme to make the event the "biggest and best" of its four decade history.
Their effort has not been lost on the festival's nationwide audience, and has reflected on ticket sales which are "way up" on last year's increases, says festival spokeswoman Becky Morris.
Becky said: "The nearest festival that will come anywhere close to this is the 25th anniversary where there was the same sort of effort to make it the best."
Over 50,000 people are expected to descend on the town and, to some, distance is no object. One man is making his journey from Brooklyn, New York, while another couple are coming from Italy to be at the special birthday celebrations.
Tuesday has been chosen to mark the official 40th birthday, and the festival programme bills it as a "wild day of party fever."
It is also the 25th anniversary of the Arena becoming the festival venue.
The day of celebrations will culminate in Mardi Gras-like style in the Arena with a Caribbean Carnival Extravaganza.
Kitted out in colourful costumes, the Trinidad Carnival Dancers, accompanied by the pulsating steel drums of the Trinidad Steel Band, take to the stage at 8pm.
There are other treats for folkies earlier in the day with the return of festival favourites The Yetties, who will perform a special concert at the Arena.
Another festival coup is at the Bowd Marquee with a one off appearance by mega folk group Brass Monkey who are reforming especially to play at the festival.
Past festival flavours will also be revisited at the Manor Pavilion with an In the Tradition roots
Anniversary hopes for star billing in international folk calendar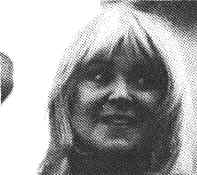 MELANIE. A major performer at this year's festival
The big stars of the show will undoubtedly be the Formosa Aboriginal all singing, all dancing troup from Taiwan. They will be making their debut in England alongside a singing legend of Woodstock '69 Melanie whose hits include Ruby Tuesday and Brand New Key.
Other international dance teams are coming from Georgia, Sweden and Greece.
BBC Radio Four's arts show Kaleidoscope will go out live, for only the second time in its history, from Sidbury Village Hall. It will host several concerts and debate the importance of the festival with Festival Director Steve Heap, who will be joined by festival artists.
Radio Two will also be featuring sounds from the festival's birthday party.
Vast
Mini-folkies also have a vast children's programme to choose from in Blackmore Gardens. They will have their own birthday celebrations with Dr Sunshine and Albert on Sunday.
There are plenty of other festival events happening on the fringes of the town with dancing, singing and workshops taking place at the various marquees at Bowd, Bulverton, The Ham, and the New Concert Marquee.
Festival organisers have focused their attention on the Arena with many more events planned.
There will be two extra performance areas at the side of the main arena stage offering live entertainment from 11am to 5pm most days. This is intended to give the more offbeat, loud and whacky street bands and morris teams a venue to perform.
The living craft area has also undergone a major rethink with more exhibition facilities for craftspeople.
Other additions include Victorian swing boats and a bouncy castle.
Becky said: "The aim is to provide a fairground atmosphere -- without the loud noise -- while still keeping the general feeling of the site."
The festival finishes on Friday in usual style with a grand torchlight procession of costumed performers leaving the Arena at 10.30pm en route for The Esplande and the dowsing of torches in the sea.
For information or tickets and festival details contact The Festival Office, 6, East Street, Sidmouth, or telephone (0395) 515134.
---
40th Sidmouth International Festival of Folk Arts
Festival News
Monday 1st August 1994
ANNIVERSARY TIME
Celebrating the 25th anniversary of her career, it is fitting that the star of Woodstock Festival '69 should be joining us for our 40th bash.
Make sure to come and see the woman who has notched up hits galore throughout her career, such as Ruby Tuesday, Brand New Key and Look What They've Done to My Song, Ma!
Her recent release has received widespread critical acclaim, proving that she can still well and truly come up with the goods.
Tonight she will be accompanied by her daughter Jeordie and guitarist Norman Rockwell.
The Topp Twins from New Zealand kick-start tonight's show with their dynamic cabaret performance.
It's bound to be a belter!
---
MELANIE -- WOODSTOCK HEROINE
We've decided to celebrate anniversaries galore this year! Not only our 40th bash, hut also the 25th anniversary of Melanie's star performance at Woodstock. Famous for classics like "Brand New Key", "Look What They've Done to My Song, Ma", "The Nickel Song" and a wealth of others, we are delighted to announce that our special Monday night arena performance will be given by this Grammy and Emmy award-winning singer. She will undoubtedly steal the show again!
---
Sidmouth Herald Friday, August 5th 1994
Sidmouth Folk Festival 1994: Melanie spills the beans

Don't live in the past says heroine of Woodstock

Report and pictures by Glyn Lomax

Live for now.. Melanie pictured in Sidmouth this week. Insert - daughter Jeordie
Things with wings had been a bit of a problem, one way and another, for American singing star Melanie, in Sidmouth for a one-night-only folk festival concert.
First of all, a cancelled flight delayed her arrival for several hours: "They didn't bother to tell anybody, so we all arrived at the airport…three flights all trying to get on the same plane so every single seat on the 747 was taken."
Then an encounter with British seagulls and our well-known indifference to air conditioning had resulted in a sleepless night: "Come on, you do need air conditioning sometimes. It would be nice to have a little cool air blowing.
"And the seagulls are different here when you come to a different place you look for these things. They make an unbelievably unearthly noise and at three in the morning they were having some sort of celebration outside the window It sounded al one point like the suffering of all humanity for all eternity, with a little rabid dog mixed In here and there "
Truly a situation to make the most fervent supporter of love, peace and freedom a little tetchy, but a reassuring smile confirmed that Melanie bore no particular ill will, even toward the gulls.
For this was, after all, Melanie of Woodstock fame, one of the voices of a generation which in the late 1960s produced the Summer of Love, rejected conventional authority and decided that universal harmony, an end to war, personal freedom and a respect for the planet were not unreasonable requirements for a better world.
Predictably, an uncomprehending and alarmed establishment took the ideals, corrupted them, mocked them, merchandised them and moved on.
Another culture
Melanie recalled "It was a whole generation at the time, another culture But governments didn't like the fact that people had this random, chaotic power.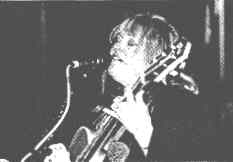 Giving her all -- Melanie on Monday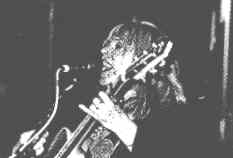 "I don't think it was an accident that the PR against drugs was always so silly. It was almost as though the establishment propaganda was made so silly that everyone thought it must be mistaken, and that it must be OK to take drugs.
I think those people were marketed on, sold the idea that times were changing, and instead of caring about the planet the mood became 'Me first, right now.' But that wasn't any more real than the idea that everybody at the time of Woodstock was caring about peace and love -- there are opportunists, political groups who seize on these tendencies as a way of manipulating large numbers of young people."
But thc spirit which generated Woodstock and Flower power, and the music it produced never died. It just carried on, largely unnoticed
Melanie said "The spirit is always there, whether it is popular or not, that's the thing When the media jump onto something, people believe it is there -- but it's still there when the media aren't jumping onto it
There could be a real renaissance People know when you are addressing their humanity and they will rise to the occasion if the time is right and the mood is right "
The post Woodstock era was a bleak one for many performers;
"For a while it was almost anathema to have been associated with Woodstock They didn't want to promote that sort of style any more and people like myself, singing our own songs and playing acoustic music, found there was very little outlet
"Fortunately I'd had some hit records and was able to continue.
Opportunistic
There were a lot of opportunities to do things that would be more successfully commercially, but the truth is I couldn't enjoy doing songs I didn't love for the sake of having a hit record. It wasn't an easy choice, it was an expensive way to go.
"I worked a lot but I didn't have a PR company telling everybody. People were wondering 'Where did Melanie go? She must have retired or become a real estate agent or something'."
In fact Melanie became the only artiste to perform in front of the United Nations General Assembly for UNICEF, for whom she eventually became chief spokeswoman, touring the world on its behalf and donating all her concert proceeds to its cause. In 1988 she was invited to perform at the Moscow Olympic Stadium during the historic Peace Summit.
Now, she said, after going through the Dark Ages, her kind of music is beginning to enjoy a revival, thanks to such artistes as Tracy Chapman
"People get what they want eventually. You can't shove things down their throats forever.
"Sometimes they wait for the next trend they're afraid to assert their own style because it doesn't fit in with the marketing scheme.
"But music should transcend marketing. People should be able to hear a lot more variety of music. Radio has a polarising effect. People like this music, they wear those jeans they have this sort of hairstyle, trey wear those socks.
Herded
"People have to be aware that they're being herded into these little channels on all issues, fashion, politics and music. But music should be what gets people out of that and opens their eyes to other things."
Twenty five years after Woodstock Melanie will be taking part in an anniversary concert on the original site, although this time it will e called the Bethel concert -- "Thy can't call it Woodstock. Can you imagine it somebody owns the name of the town!"
Her Sidmouth concert was her only British date on her current tour, accompanied by her family band including daughter Jeordie: "I've always loved the sound of that name. I thought I was going to have a boy, but when I had a girl instead I spelled it with a J because it looked more feminine."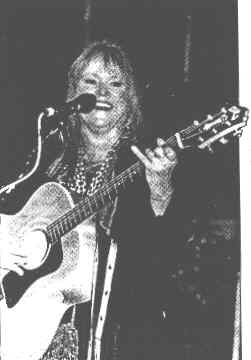 THE joy of a live audience
She said: "We took a ride in the countryside yesterday and saw the old Norman church at Branscombe. We were taken up the bell tower. It was wonderful."
She was looking forward to her evening's performance: "There's much more humanitarian spirit in Festivals like Sidmouth. They're not as hyped up, as promoted or as corporate. People are pulled in by their love of music.
"And in England people listen more. That's my favourite part of coming to England. People are really here. When you perform in England, even more than the United States, you know people are getting everything."
Her love of singing to an audience was obvious. "Live performing is the only real performing. A microphone is a bad audience.
"I don't really enjoy rehearsals. But when people are there it makes it alive, you can enjoy the things that happen on stage. In some respect Woodsy had something to do with that. Things happen, a microphone falls over, or a fly flies in your mouth -- that really happened, it was awful! -- or somebody in the audience knows your song and gets onto the stage, and you find you can deal with it.
Shy
"I'm a pretty shy person in everyday life. If somebody asked me to sing in front of a small group of people I would get very nervous, but at a concert I make a transformation to this place where I am comfortable. It's bigger than life, you are reaching distances you don't reach in everyday life.
"I get very nervous before I go on, but as soon as I get on I don't want to leave. I think 'This isn't so bad, it's great.'
"I just go on and on and usually the organisers are getting a little nervous and thinking 'We have to be off the site'."
Although the events of 25 years ago decisively influenced her life, Melanie doesn't believe in living in the past: "Live in the present, do as much as you can to make it better.
"Moaning and groaning about this and that, and how it all used to be better, that's ridiculous. Live now."
---
Love, freedom and Woodstock
Melanie at the Folk Festival Arena
WOODSTOCK joined Sidmouth Folk Festival in a double anniversary this week, and the result was a heady mixture that had the Monday night audience begging for more. The link between the two events was Melanie, appearing at the 40th Sidmouth Folk Festival, 25 years after being one of the hits of the Woodstock concert
And she proved that the magic of her own personal blend of passion and humour, an almost childlike innocence mingling with deep and caring insight, was as clear and fresh as ever.
And so was that unique, haunting voice, sometimes powerful, almost strident, sometimes quiet and playful.
She sang the songs, which made her a popular success in the early 70s, such as Brand New Key and Ruby Tuesday as well as more recent material such as Freedom Knows My Name.
She sang a song inspired by her own children's questions about death, with the memorable chorus line: "The world may be quieter than it was yesterday -- but I will not go away."
The moods changed, from the whimsical Alexander Beetle to moments of quiet contemplation, from sombre political comment to foot stamping, head back celebrations of the sheer joy of living. She chatted to the audience, considered their requests for songs with mock seriousness, and with obvious delight scrapped her programme and obliged.
There was a humorous self awareness in her song about her children's view of her as "just a throwback to the 60s generation", but when she launched into Candles In The Rain, her soaring celebratory anthem to Woodstock, suddenly everybody was part of the 60s generation, even those who probably weren't around at all at the time.
Little lights began to twinkle all around the arena as people lit their own small personal flames to freedom, love and peace, and the spirit of the Summer of Love blossomed again.
Which was obviously what the audience wanted. Melanie's first encore had them on their feet begging for more, and they got it, over and again. A girl sitting at the edge of the stage called out "We could listen to you all night", which seemed to speak for everyone. As Melanie sang on people applauded, cheered, danced.
At the end, she sang Beautiful People the underground hit which first brought her international recognition, and incidentally the first Melanie song I ever heard, back in 1969. Thanks, Melanie.
GLYN LOMAX
---
Express & Echo Exeter Tuesday August 2, 1994
| | |
| --- | --- |
| Happy to be here, but oh, those seagulls! | |
| SINGER Melanie is the gig star at Sidmouth Festival. She took time off to talk to DAVE MARSTON about herself. | FOLK STAR: Melanie, who wowed 'em at Sidmouth last night, says: "I'm really a shy person but when I'm on stage I never want to get off again." |
MELANIE is having problems.
The stylish star of the Swinging Sixties is the big name of this year's Sidmouth Folk Festival.
But the woman who wowed them at Woodstock, the landmark rock festival of a generation ago, has had a troubled night in Sidmouth.
The problems are the nocturnal habits of the seagulls and the lack of air-conditioning.
"Your seagulls make unbelievably unearthly noises right outside my window," said the Florida coast folk star.
"At 3am these seagulls are having some kind of celebration or pagan ritual and it sounds like the suffering of all humanity for all eternity. I have never heard noise like it."
The other problem is the lack of air conditioning. In the States it's common. Here it's a little less common.
"It would be nice to have a little cool air coming in," she said.
But as she sat in the York Hotel on Sidmouth seafront, there was no doubt that this woman was happy to be here.
Some festivals are too "corporate" and "hyped" she said. The Sidmouth Point has real atmosphere and a lot of spirit.
Even at the beginning of her short stay in the resort she had caught the infectious happy mood of the annual festival.
She had also been sightseeing to the Norman Church at Branscombe and up the bell tower.
But her main kick is going onstage and she was looking forward to last night's show.
"Going on stage is a real transition, she said. "I am a pretty shy person. I couldn't sing in front of a small group of people. But I go up on stage and when I am on I don't want to get off again. "
This former Flower Child was the first solo performer to appear at London's Royal Albert Hall and she has more than 25 million record sales to her name from 29 albums.
She performed at Woodstock 25 years ago at what she says was an amazing period of history. She's going back to help celebrate the 25th anniversary after she has finished at Sidmouth.
---
A night of talented fun
REVIEW: Melanie at the Sidmouth Festival
THEY say if you remember the 60s you weren't having that good a time but 25 years after her appearance at the notorious Woodstock Festival in 1969, Melanie is still wowing audiences -- this time at the Sidmouth Festival 1994.
The haunting voice that belted out Ruby Tuesday is still resonant and moving. Last night's performance mixed some of her memorable hits including Brand New Key and Look What They've Done to my Son Ma! with some new material during what is billed as her only British appearance on her world wide tour.
It's a pity we don't see more of her because her talent is still intact.
Backed by her family band this terrific performer was great fun and included, to the delight of the audience, Alexander Beetle and Glory Glory Psychotherapy.
The Topp Twins, the harmonious folk duo from New Zealand were also a great warm up act.
The stage set and lighting were superb, and the Sidmouth Festival looks set for a great week of top entertainment.
Lyndy Pooley
---
Look what they've done to my sleep, Ma
by JO BISHOP
MATING seagulls and a lack of air conditioning meant a sleepless night for Sidmouth Festival star Melanie, before her one off concert last night.
But while the seagulls may not have endeared themselves to the American singer, the British public already had.
Speaking before her concert she said: "There is a much more humanitarian spirit to festivals like Sidmouth, which are not as hyped up as some in the States.
"People here are pulled in by a real love of music. They really get into the spirit of the thing."
The once acclaimed Woodstock star stopped off in Sidmouth as her one British date on a world-wide tour. Her 29 albums span a 25 year singing career from her early hits like "Brand New Key" and "Look What They've Done to My Song, Ma! " to her latest unplugged Silver Anniversary album.
Speaking from the Royal York Hotel in Sidmouth, where she is staying until the middle of the week, Melanie said: "I am used to air conditioning, but nowhere in England seems to have it. With the seagulls as well I was up and down all night, opening and closing the window. the seagulls seemed to be mating right outside, but if I shut the window I couldn't breathe."
Arriving late in the town because of a plane cancellation from New York, Sunday was spent visiting the parish church at nearby Branscombe, while yesterday was spent in press interviews and preparing for last night's concert.
Melanie said: "I am pretty shy in everyday life. On stage I am different. I make a transition from me to this place where I am comfortable. It is bigger than life. I get nervous before I go on stage, but once I am on I don t want to leave.
"Appearing live is the only performance. A microphone is a really bad audience. It is people that makes music alive. Then things happen and I enjoy the things that happen on stage."
Tonight's main arena event will be the festival's 40th anniversary concert with dancers and a steel band from Trinidad.
---
Western Morning News Wednesday, 3 August 1994
Mel's late but great
<![if !vml]>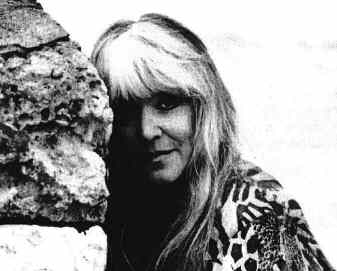 <![endif]>SIXTIES singing star Melanie may have arrived late for her concert at Sidmouth Festival but she certainly gave the 4,000 strong audience their money's worth running on by 40 minutes to the consternation of organisers.
As the crowd called for more, the former Woodstock flower child lapped up the deserved applause, giving three encores and earning a standing ovation.
Arena director Derek Schofield kept anxiously checking his watch as Melanie responded several times over to the crowd's request to do "just one more".
All the old hits were there Look What They've Done to My Song, Ma! and Brand New Key as well as the popular Alexander Beetle and Ruby Tuesday.
There was also an enthusiastic response to her later repertoire, including songs from the new Silver Anniversary album and Freedom Knows My Name.
Touching down briefly in the UK as part of a world wide tour the 47-year-old mother-of-three proved she still has what it took to wow Woodstock 25 years ago.
TODAY'S FESTIVAL
HIGHLIGHTS
9.30am American dance workshop, Ham Marquee.
12 noon Ceilidh, Anchor Gardens.
12 noon Cajun concert with Vermenton Plage, arena.
lpm Great Western Morris and Grand Union Rapper, dance display, Market Square and 1.30pm at York Steps.
3pm International show, arena.
7.30pm Family special, Blackmore Gardens.
8pm International show, arena.
8pm President's night, Parish Church.
8pm Brass Monkey, Concert Marquee.
---
Festival is Hailed as success
THE Sidmouth Festival which celebrates its 40th anniversary this year, is being hailed an all round success.
Police report a quiet week so far with a fewer arrests than last year.
Sidmouth Chamber of Commerce chairman Alan Kershaw said businesses in the town were mostly having a very good week and those traders he had spoken to at the arena were also doing well.
"Some don't like the festival, but it is only for six days. It brings in a lot of custom for the town and we don't want to lose it."
Festival organisers are gambling with the weather this year over the main arena programme. In previous years, there has been a marquee in case of rain during the afternoon or evening performance.
This year there is no tent and the show will go on in the open air unless particularly adverse weather cancels events.
---
Like Woodstock with chairs instead of mud
Melanie at the Sidmouth Folk Festival
IT'S 25 years now since half a million people trekked out to Yasgur's Farm in Up State New York for Woodstock -- the one great moment of the hippy generation.
A quarter of a century on many of those who graced the stage of the most famous festival of all time have perished -- Jimi Hendrix, Janis Joplin, Tim Hardin, Keith Moon are all no more.
Others have simply faded into obscurity and presumably cosy middle age.
Later this month they are staging a second coming of Woodstock.
Melanie, one of the original stars, is going back to revive a few memories.
Last night as part of her warm up she played the only British date on her current European tour at the more genteel setting of the Sidmouth Folk Festival.
Sidmouth has been doing festivals for even longer than Melanie. This is their 40th anniversary. And by now they know how to do things in comfort.
"Are those beach chairs?" she greeted the crowd, in their massed ranks of deckchairs, incredulously as she walked out on stage.
Curiously her long black hair has now gone blonde and at 47, she is considerably stockier than she ever used to be.
The voice, a hoarse warble which sounds like a cross between Edith Piaf and a strangled sheep, is as distinctive as ever.
But best of all she seems to have gained a sense of humour over the years. The earnestness which made her so irritatingly twee all those years ago has been replaced by a disarming self mockingness.
"I really wanted to be taken seriously when I wrote this," she said introducing her biggest hit Brand New Key. "It was the kiss of death to my career really, wasn't it?"
FRASER MASSEY
---