MELANIE TO RECORD IN MELBOURNE
MELANIE, the American singer-composer currently touring Australia, has commissioned a Melbourne television producer to record her next single and to produce and direct her in a film for world-wide release.
 The offer, to Channel 9 producer Wayne Rogers, was made by Melanie and her husband-manager, Peter Schekeryk, after Melanie's televised appearance on the opening concert for Melbourne's Moomba festival.
 Rogers produced the show, which so impressed Melanie sound- wise and visually that she approached Rogers and the show's sound man, Colin Stephensen, about getting involved with her next single release.
 Immediate steps have been taken to record the selfpenned song, Remember Me Good, at Channel 9's TCS studios. It will then be released world-wide through Festival Records.
 Rogers, as well, will produce and direct a film on the making of the record, which will also be released worldwide.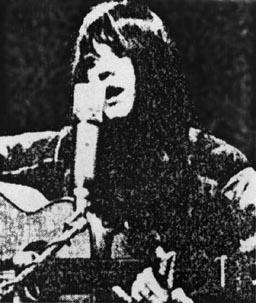 Melanie in concert.
<![if !supportEmptyParas]> <![endif]>
<![if !supportEmptyParas]> <![endif]>
<![if !supportEmptyParas]> <![endif]>
"It's a very exciting prospect," Rogers told TV WEEK. "Melanie is such a marvellous artist to work with.
"She even cancelled three concerts in Philadelphia so she could appear on the Moomba concert.
"I'm very much looking forward to working with her once again. We're sure the record will be yet another smash hit for her.