The

Turning Point

Report by David J. Boldinger

I got back to London from the New York Turning Point shows at 10 am Thursday 14th, Mechthild from Germany also had gone there, and also another guy, Ken from England said hello to me. <![if !vml]>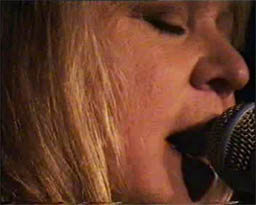 <![endif]>
Rick and Pat also came, that accounts for 3 web sites! Melanie was in fine voice for her two shows, I'm sure Melanie feels very comfortable there; she hinted she could only do her obscure songs here! It's like a family reunion.
Melanie had a very thick book of lyrics, made by Donna, and passed it around the audience.
Emptied her pockets, out comes her personal copy of the Melanie Antlers CD, from another pocket comes out her glasses, which she puts back. Motherly does Beau's cuffs up and takes a sip from her cup of hot tea and Brandy.
Says hello to all - notices and introduces me! On with the show . . .
Their first song is Silent Night, with Beau producing some lovely sounds from his MIDI guitar, Melanie gets as far as 'tender and mild' and remarks how high the note should be.
White Man's Blues, a song I haven't heard Melanie perform for about 26 years, this song so far has never made it to either LP or CD, thus I was a little unsure of the title, so I asked her - a good question but never got answered until after the show, when it was agreed to be White Man's Blues! Beau is introduced, after a lady in the audience asked, 'who's that good looking guy?'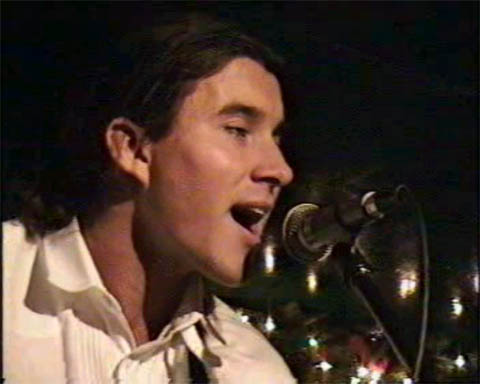 Perceive It, one of Melanie's personal favourites for opening her voice up and the theme: "Perceive It - don't hold on to any one moment" A song Melanie used to sing Beau to sleep with, it only had one verse, and she finished the song recently, after 20 years.
Melanie's father had an Inn in Vermont, where for two summers she took her kids, there's a real sadness and longing in the song because the Inn isn't there anymore, no title mentioned but it may be 'Where The Water's Running Down.'
<![if !supportEmptyParas]> <![endif]>
'Another never before performed obscure song', Afraid of the Dark, which she may have forgotten is on Sunset And Other Beginnings
The Suicide Song follows after an elaborate explanation of a dream she once had, and warned everyone not to do it - it doesn't work! For those worried about this song, it ends 'Stay Alive'.
Apathy (as requested)
<![if !supportEmptyParas]> <![endif]>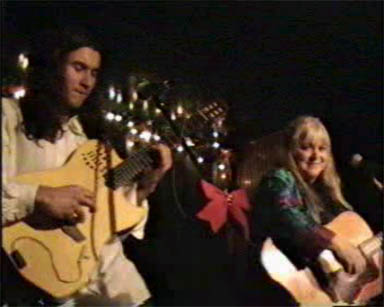 Good King Wenceslaus
I really Loved Harold (as requested)
Mirander (as requested)
Running After Love
Some Day I'll Be An Old Record
The Angel Song ('almost ready for recording to CD') <![if !vml]>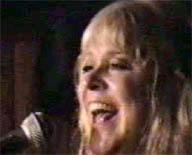 <![endif]>
Intermission followed by Beau with one of his Solo Instrumentals, (Dad)
Melanie returns to the stage with The Nickel Song
During Brand New Key (Melanie mentions that Macey Gray performs it and is likely to record the song - talks about the Evitaish Hilary Clinton, 'Don't cry for me New York City, the truth is I never lived here' and also the Capital Steps' I want a Brand New Pair of Candidates, (the US presidency election was still in the courts) - 27 day distilled water fast followed by her fast-food MacDonalds experience)
Leftover Emotions (someone calls out for Leftover Wine, Melanie says she'll do Emotions first, then all her other Leftover songs) she includes an excellent new verse in this.
 People Got To Be Free (Verizon commercial - as people think it's her - though it is not) played to a 50-98% finished backing track. All played by Beau!
Old Bitch Warrior (mentions it to be her answer to Pirate Jenny from The Threepenny Opera) Hand me Downs (Golden Chains) (as requested)
True Believers (as suggested and requested with a little help from the lyrics' book, back amongst the audience after the break)
When You're Dead and Gone <![if !vml]>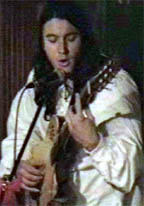 <![endif]>
I'm Back In Town (as requested)
And We Fall (Song written about/for Leilah - first performed Friday in public - to be on new CD with the Beau touch! )
You Can Find Anything (almost finished recording played in background, again Beau has done all the instrumentation - this is the most commercially sounding song from Melanie for a while, an ideal advert song for Anything. com)
Tonight's The Kind of Night
Merry Christmas - I hope you get it this year! Autographs - - - - - - - - - - - - - - - - - - - - - -
<![if !supportEmptyParas]> <![endif]>
Second show on Monday
Perceive It
Arrow
 I really Loved Harold (as requested)
Love To Lose Again (Beau also plays Pennywhistle)
Talks about living in Florida, and having no political affiliation - she voted for Harry Brown!
Song of the South
Cerulean Blue
Any Guy (as requested)
Leftover Wine
Mentions Beau has been on stage with Melanie for three and a half years.
 Baby Day
What Have They Done My Song, Ma? (talks about Holly Hunter in the Melanie Story having The nervous breakdown)
Intermission
Beau Solo Instrumental
Beau Solo Instrumental Dad
Melanie takes the stage (Mentions she would like an Old Bitch Warrior tour jacket - (Beau wants two!) motherly straightens Beau's hair - Wanted to be Pirate Jenny in the Three Penny Opera - sings a little of the song, 'Pirate Jenny' - Old Bitch Warrior is Melanie's Pirate Jenny - You don't have to be afraid of the Old Bitch Warrior unless you're the enemy! ) Old Bitch Warrior
Ships In The Harbour
Good King Wenceslaus
Tonight's The Kind Of Night
California Dreaming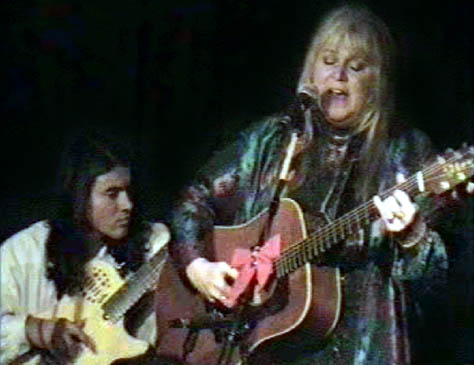 The Angel Song (To be title song in forthcoming (Dianne?) Ladd film 'Hot Water Biscuits' - Melanie does some lovely choral work here)
Stevie Brown (Like Beau, Stevie Brown was also born September 11th at the same time and in the same Tampa Hospital, but they never met until they were five years old, they became close friends, until Stevie was killed by a drunk driver - this is the first time Beau has been able to perform this song he wrote about his best friend.)
Life Will Not Go Away
Hilary Clinton
And We Fall (Song written about/for Leilah)
I Am Not A Poet
You Didn't Grow Up To Be A Ballerina
And We Fall (repeated because the show was being recorded, and they had to change the media erlier)
Oh, Come All Ye Faithful
You Can Find Anything (sung over the part finished recording)
People Got To Be Free
Ruby Tuesday
Autographs
Peter was ill on Tuesday, so we didn't really get much of a chance to talk.
Finally I was hoping to return with some CDrs of Neighborhood albums, but alas I am still waiting.
<![if !supportEmptyParas]> <![endif]>