The Coffeehouse at Mays Chapel
Timonium, Maryland
January 31, 1997

Story and photos by Rick Ziegler

---
Who Said "Getting There Is Half The Fun"?


This, our second trip to Mays Chapel to see Melanie, was easier than the first. No 200-mile trip from Brooklyn in 90 degree, August-like heat; no heavy traffic from New Yorkers escaping for the weekend. No worries of "Will we make it on time?" And best of all, no worst-seats-in-the-house, from arriving halfway through the opening act. What a difference from the June show just seven months earlier. After a relatively short, 65 mile drive from my hometown of Lancaster, Pennsylvania, we arrived with an hour to spare. Our fears of another crippling blizzard like last January melted away with the mild weather. With the helpful map provided on the Mays Chapel website in hand, we managed (this time) to not get lost in the many wooded areas and housing developments in this city near the better-known metropolis of Baltimore.

Mays Chapel United Methodist Church is nestled in a beautiful, wooded area outside of the city. It would be easy to miss from the road (which we almost did on the first trip), especially when traveling after dark. After somehow finding the site where Melanie performed last year in Hartly, Delaware, I often wonder how she and Peter find their way to these events. One or both of them definitely has a better sense of direction than I!

Having arrived so early, we joined 50 or so other early arrivals inside this contemporary church, and were treated to the sounds of Melanie's rehearsal. Following the lead of many other anxious patrons, I moved ahead of the line that had already filled the hallway, just long enough to sneak a peek through the closed chapel doors. Melanie's powerful voice filled the church, as Jeordie and guitarist Frank Usher accompanied her. I knew we would not be disappointed. After what seemed like an eternity, the doors opened, and we found our seats near the now-empty stage.

Everything You'd Expect, And Comedy Too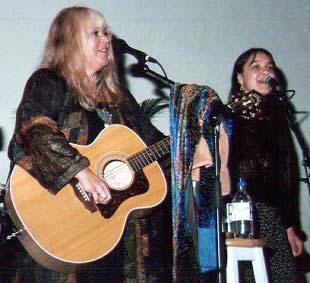 Melanie arrived a few minutes later to thunderous applause - much more than one would think possible from an audience of about 300. She began by telling us that this was her first show in a while, having taken time off to spend with her new grandchild. She recalled her memories from her last visit to Timonium, and how she enjoyed playing here. Returning gave her a sense of having a 'steady job', as she called it. One thing I'll never forget was her joking about the nearby Denny's restaurant's breakfast platter called "Moons Over My Hammy" (a parody of the song, "Moon Over Miami")! Just another example of how wonderfully Melanie relates to her fans, as much at home on stage as anywhere else.

After introducing Frank (who was making his first appearance in the US) and Jeordie, Melanie began with "Did You Ever Love Somebody". Her ageless voice and guitar playing, accompanied by Frank on guitar and Jeordie on vocals, accomplished what few musicians can - an energetic, emotion-packed live performance that captures the audience, unaided by studio dubbing, remixing, and other electronic magic. To me, this is the true test of a great performer.

Melanie added three new songs to her playlist tonight - "Leftover Emotions", "Cerulean Blue", and "A Song For Robert Johnson". We were treated to her personification of Joan Baez (and a very good one at that!), and were told it was her ambition at age 16 to be just like her. And what would a Melanie concert be without the now-standard audience participation version of "Brand New Key". Oh, ah, oh, ah… Near the end of her first set, Melanie sang for us a slightly twisted version of "Window Pane":



"Sunshine through a cool breeze,
Fifteen more minutes on my hands and knees.
To get my butt as brown as the rest of me,
I work all day to be beautiful.
She works so hard to be beautiful.
Time heals all wounds,
My last haircut was a year this June.
Some things don't grow the way you want them to.
I work so hard to be beautiful.
She works all day to be beautiful.
When I'm old and tinged with gray,
All my hard work will make it all go away.
Isn't she beautiful for her age?
She works so hard to be beautiful.
All night and day to be beautiful.
What she don't give to be beautiful.
She works so hard to be beautiful."



A great comedy writer, too! Ironically, 'to be beautiful' is something Melanie will never have to work at. For her, that just comes naturally.


Happy Birthday, Dear Melanie

After a short intermission, Melanie returned to the strains of "Happy Birthday", sung by the audience. Just three days until her 50th birthday. She announced her plans to return next year around this time. To date, this is the most candid I've seen Melanie. From her tap dancing lessons at age four (her mother fancied her the next Shirley Temple), when she first sang "Unchained Melody" into a tape recorder, to her short stint as a "Gourmet Girl" and Hat Check Girl at Zabar's Deli in New York (her only 'regular job', as she put it), to the present, the evening was interlaced with songs and stories that captivated the audience. I doubt that anyone there - people ranging in age from teens to seniors - realized that more than two hours had passed, in what seemed like just a few minutes.




Another Great Show, Melanie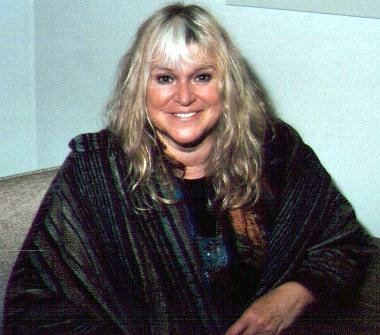 Now is the time that I've come to look forward to as much as the show itself: the chance to chat for a minute with Melanie, congratulate her on another great show, and ask her to sign an item or two. With the line quickly forming, it's end somewhere out of sight, we decide to mingle with the ever-growing number of familiar faces, fellow fans who travel to Melanie's shows whenever possible. Melanie asks for just one thing - a cup of coffee. She signs, laughs, and poses for photos, until well after midnight. I envy this lady's energy! By now, just a few people remain. The event organizers are cleaning up, Peter is tying up some loose ends, and the last stray audience members are leaving. As we depart for the hour and a half drive home, I think about finding that Denny's restaurant and stopping for breakfast. Nah, too tired for that. Next time, maybe. And next time, I think I'll leave the map at home. This place is easy to find.
---
Chronology
Back to Melanie