Judging it
'Melanie's the name'
By FRANK JUDGE
News TV-Radio Critic
Born Melanie Safka 25 years ago in Astoria Queens, New York City, Melanie changed her name when she married Peter Schekeryk.
Wither way she figures she wasn't blessed with the kind of name you're supposed to need to succeed in show business.
So if you ask her what her name is she says its Melanie. Melanie what? "Just Melanie. The name's Melanie" she insists.
By any name, she's one of the biggest attractions in pop music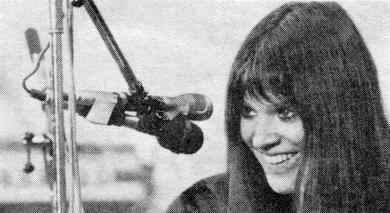 These days, and you can catch her act tonight when she appears in an NMC special "Good Vibrations from London." Channel 4 is carrying it from 8:30 to 10:30.
FILMED AT A NINE-HOUR rock concert in Crystal Palace Park just outside London before an audience of 20,000, the program also features English rock star Joe Cocker, the Beach Boys, Richie Havens and Sha Na Na.
If you're a Lawrence Welk fan, this special is not for you. But if you're a pop music lover, it's highly recommended.
For me, Melanie is enough of an invitation, Lady Melanie she's known by to millions of people who have bought her records. She has recorded six hit albums, almost exclusively consisting of her own songs.
ASK HER to define her music and she does it in negatives.
"It's not hard rock," she says. "It's not folk. And it just ain't classical no how."
What it is, is Melanie.
Soon she will be on her way around the world on behalf of UNICEF.
It all began with a concert she did last September from the rostrum of the General Assembly at the United Nations staff party. Invited to perform, she made such a telling impression that Melanie was named the official spokeswoman for UNICEF.
"I WOULD REALLY LIKE VERY MUCH TO DO A Christmas concert for UNICEF somewhere," she says. "I'll probably cry my way around the worldl on this tour, meeting all those kids. I can't wait to get started."
Musically, the girl who grew up in Red Bank, N.J., got started many records ago, the best of which probably was the million-seller "Look What They've Done to My Song, Ma?"
Just imagine what she could have done with a full name!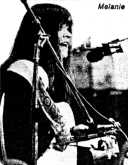 Special: Twenty thousand fans sat through three hours of London drizzle for this session of oldies, folk music and hard rock. John Moffit (last season's "Good Vibrations from Central Park") taped the concert at London's Crystal Palace Bowl.
                Stereo buffs can tune in WNEW-FM's simulcast for a four-channel effect. (60 min.)
Songs and Performers
"Beautiful People," "Some Day I'll Be a Farmer," "Ring the Living Bell"  ............... .............................................................. Melanie
"Rama Lama Ding Dong," "Whole Lotta Shakin'," "Teen Angel," "Rock and Roll Is Here to Stay" ................................. Sha Na Na
"Minstrel from Gault," "From the Prison," "Freedom" .. Richie Havens
"California Girls," "Wild Honey," "Rhonda" ................ Beach Boys
"Cry Me a River," "Black and Blues," "Feeling All Right"..... Joe Cocker
<![if !supportEmptyParas]> <![endif]>
<![if !supportEmptyParas]> <![endif]>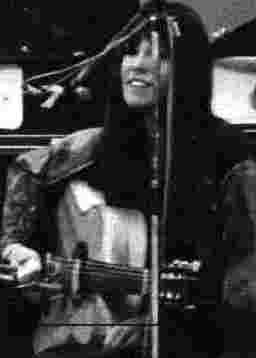 Melanie, composer-guitarist-singer performs some of her songs in "Good Vibrations '72 From London," the mod musical taped at London's Crystal Palace Bowl. Tuesday, July 18 (9:30 to 10:30 p.m.) on NBC.

<![if !supportEmptyParas]> <![endif]>

<![if !supportMisalignedColumns]>