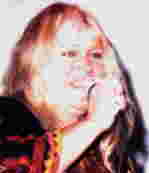 Fall Fling
Pictures by Rick Ziegler
---
What a Fling we had! Don Coates said: "This fling had the worst weather and was our most successful ever."
Everyone I've spoken with has agreed, even the folks that got good and flu-ridden for their troubles. Might be I was one of those folks. Ever rebellious as a youngster, never could understand why Mom lamented I didn't have sense enough to come in from the rain. I'm beginning to see the light, though I'd probably stand out there in the rain again given similar circumstances.
It really was a wonderful gathering at the Fling. Twelve hours of outstanding music on stage performed through thick and thin, rain and shine. Kids activities enough for all the kids of all ages. Interesting vendors and good food and camaraderie. This Fling was a genuine gathering of friends of folk of all variety, and it was great to see and experience.
There were a lot of heroines and heroes of this Fling; folks that worked tirelessly to make this a success. To each of you, please accept my most heartfelt thanks for your superb results.
Finally, Melanie sent us a nice note after her performance - here's an excerpt - "Even though it was raining the warmth and the spirit of the event shined through." Melanie also mentioned she'd like to come back and further, that she'd like our own Carlos Holmes to solo on a recording with her.
--John Le Croy, President, Delaware Friends of Folk
---
Back to Chronology
Back to Melanie