New Musical Express 17th October 1970
VOICE OF EXPERIENCE AND THE LOOK OF INNOCENCE
MELANIE:
By Roy Carr
---
I'VE been listening to Melanie's albums for close on eighteen months now, and I still don't think that you could call her a singer in the accepted sense of the word. This is not to infer that I am not an admirer of her talent. Quite the contrary. It's just that in her very own personalised way her voice lurches, creaks croaks and very often slips out of key.
And yet there is an unquestioned magic in the drama, emotion and pathos of her delivery. A voice of experience, yet the look of innocent child.
I believe it is the French who have a word for it . . . Chanteuse.
Indeed, it was our Gaelic cousins who were amongst the first to recognise her merit and this country the last
I don't think anyone will fully comprehend why it has taken Melanie so long to achieve popularity over here. Now that she has it has been with a vengeance.
She's crashed into the singles chart at No. 21 with the Jagger/ Richard classic Ruby Tuesday' and taking just three short weeks to place her album in the No. 5 position.
Though she is n prolific writer, it has been her little-girls lost reading of someone else's song that enabled her to gain acceptance.
Her own songs 'Bobo's Party,' 'Lay Down' and 'What Have They Done To My Song Ma' (a current Stateside hit for the New Seekers) being surprisingly overlooked.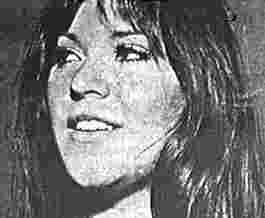 MELANIE pictured in London recently.
This attractive 22-year-old Manhattan girl of Ukrainian parentage started her career as a school-girl singing in n New Jersey bar called 'The Quay' in her after college hours.
After six months of casual bar and aimlessly wandering New York, she finally managed to secure an audition for a New York play.
Such is fate that Melanie walked into the wrong of office where she was confronted by producer Peter Schekeryk, who, seeing her guitar, invited this rather bewildered young girl to sing for him.
After that meeting Peter was to become her mentor and later her husband.
A devotee of Mehar Baba, Melanie showed the depth of her poetry when she collated her observations of Woodstock in her famous song ' Lay Down ' (Candles In The Rain) which she waxed with the Edwin Hawkins Singers.
Her acceptance in this country was also greatly hindered by her appearance at the Isle of Wight Festival. Due to various mishaps and a confused schedule she had to wait two whole days before she finally walked on stage.
By this time it was early in the morning and most of the crowd had either left or were sleeping the sleep of the exhausted.
Now she has made the big break though perhaps she will return in her own terms, thus enabling us to appreciate her performance under more acceptable conditions for both artist and audience.
---
Back to Chronology
Back to Melanie