Tomato Records Melanie Biography November 1978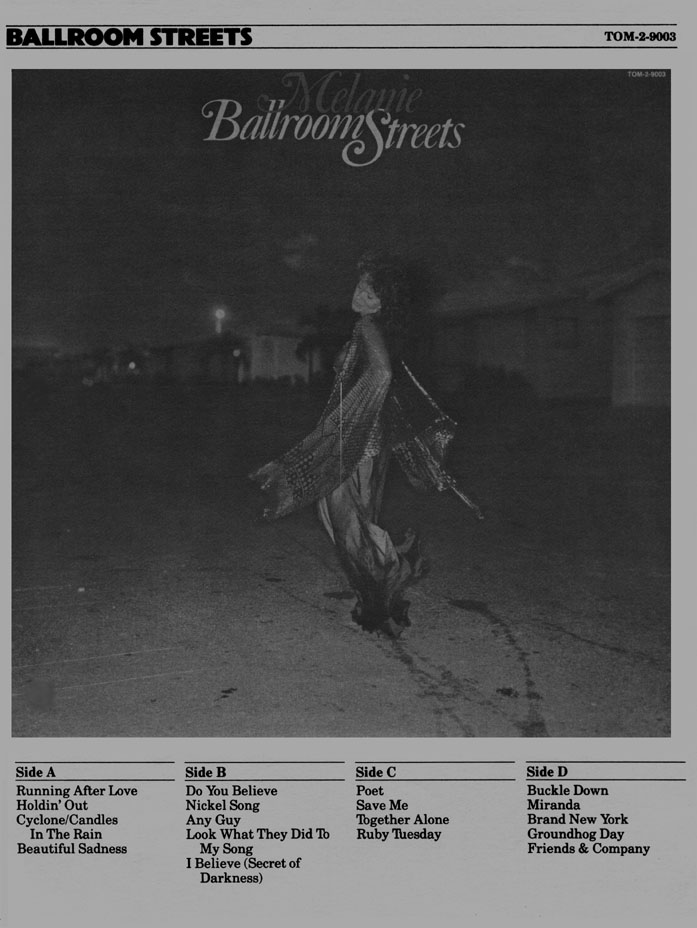 | | | |
| --- | --- | --- |
| MELANIE | | |
Melanie (born Melanie Safka) has recorded 19 LPs and has sold 22 million records. She has written innumerable songs, including universally recognized hits like "Nickel Song", "Beautiful People", "Look What They've Done To My Song", "Brand New Key" and "Candles In The Rain." And she has been the only female singer in the last 20 years to have three singles on the top forty at the same time. In 1975 Melanie recorded "Photograph" (Atlantic) which enjoyed a modest commercial success and introduced a new Melanie whose "far more assertive style" contained "her slightly guttural tones quiver, trill, blast and whisper, yet her originality is in these variant, imperfect timbres that startle and surprise" which combined to portray Melanie, at long last, as an adult, singing adult songs for an adult audience.
Her further growth was evidenced on her 1977 release for Midsong International, "Phonogenic: Not Just Another Pretty Face". This LP included ten songs (four Melanie originals and six interpretations of tunes by other writers) that demonstrated Melanie's extraordinary abilities as a musical and emotive interpreter.
Melanie's first album for Tomato Records "Ballroom Streets" takes that potential of maturation and goes one giant step further, smack into the heart and soul of rock & roll. "Ballroom Streets", a double LP was recorded live in the studio before an audience of thirty people. The LP contains all the spontaneity, exchange between performer and audience, and a band of impeccable rock musicians, to give "Ballroom Streets'' a big joyful sound.
With the release "Ballroom Streets" along with Melanie's triumphant return to the concert stage last June at Carnegie Hall, a major phase has begun in her career.
Melanie notes: "I really am a survivor, too. I'm glad in a way that I've had time off. It's given me the chance to think about a lot of things."
Even now, some reviewers or critics still are unsure when you mention the name Melanie, they're still thinking in terms of Earth Mother/Granola/Whole Wheat Dumplin', well, hold on to your hats folks, Melanie's not only found a "brand new key" but it's a brand-new ballgame and this is one lady that's not about to be eclipsed by any other woman on the rock scene today. She's a killer, and one listen to "Ballroom Streets" will forever dispel any 'bliss-ninny' pictures anyone may still have about this fantastically talented lady.
Melanie is the kind of person one can instantly relate to, open and always in high humor, her life force shining through.
Her hair's frosted with gray now but her eyes still twinkling with a mischievous glow. "Ballroom Streets" is the evidence that Melanie is a contender to be reckoned with and I reckon that the airplay, out of the box will finally and firmly establish Melanie as the bright alternative to the female singers on the charts today.
Personnel in the band include Sal DeTroia, Melanie's long- time acoustic guitar sideman, Bob Leone on bass guitar and Robbie Georgia on lead and rhythm guitars who joined up with Melanie for the June Carnegie Hall concert (1978) and as Melanie puts it, "stood by for better or worse." Louis Cabaza on keyboards came in from Los Angeles for this album and Stan Kipper on drums "found the pulse" and Tony Battaglia on lead, rhythm and bass guitars "quickened it." Both Tony and Stan, masterful musicians and rock and rollers to the core injected an enthusiasm and energy that is clearly evident on the LP. This is particularly true on a cut entitled "Cyclone/Candles In The Rain". Melanie delivers a powerful vocal on "Cyclone" which is inter-mingled with synthesizer producing vocals that are out of this world and the band goes into overdrive concluding with a perfect segue into an acapella version of "Candles In The Rain," powerful rock & roll with drama and vivacity.
"Running After Love" the first single from the album has all the urgency rock with the added dimension of a mature viewpoint.
The lyrics are true, spare, evocative and right on target. This is a woman who has loved, suffered and survived right along with the rest of us. Listeners will connect immediately, she's coming from an honest place and has the grit to put it out there.
Welcome back Melanie, welcome to "Ballroom Streets" America: rock and roll needed a punch in the arm and this lady's the one to deliver just that! -- November 1978
---
Back to Melanie