August 13, 1997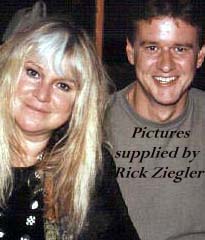 Sunday Was Wonderful
by Rose Lanaro MMS Staff Writer
---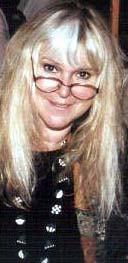 Sunday was wonderful. Melanie at the Turning Point feels like home. Most of the audience have been here before and many have become friends, even if only over their passion for the woman and her music.
The first show went off beautifully. Melanie in her beautiful blue ensemble. Lovely materials and textures falling around her with grace and ease. Right away she made herself at home with all of us, sharing her new news, mainly about the family and beanie babies. The beanie babies business was news to her so she thought she'd fill us in.
What would she need a guitar player for?
When she has raised her own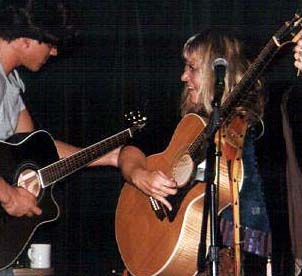 Again she was accompanied by her son, Beau Jarred. What would she need a guitar player for? When she has raised her own. Beau Jarred is an accomplished musician. With an ease about him when playing, at sixteen, his playing is a real extension of himself. He has lots of energy and a unique style of his own.
Melanie's voice is exquisite. Her high flutey "angel", her deep bluesy passages, her soul searing blasts of pure emotional energy, all there in a perfect blend that lent a beautifully magic air to the evening.
Melanie grows with each new song, with each passing year, never stale or still, she always brings a freshness to even her oldest songs.
Tonight is for Beau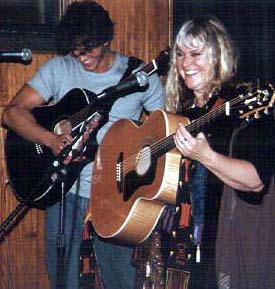 Tonight she said was for Beau, it was all the songs Beau liked and she ended with a surprisingly something more than country rendition of "Momma, Momma". We were all thrilled to hear such a gem come alive again in a whole new way. Where before we might have been connected by our sorrow, we were now given a whole new positive determination.
The set included many of the songs from the new CD "LowCountry" which has a rich country blues feeling. For myself, the CD captures very closely the feel of Melanie's live performances. If you get a copy enjoy it!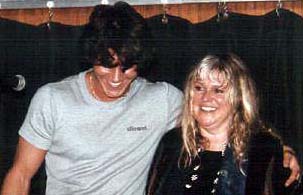 Beau shared two of his songs with us, they are very heartfelt, sincere and honest. He has written a tribute to his Mom that was a total tearjerker, Melanie said she can't be on the stage when he sings it, because she can't help but cry. Those of us who got to hear it know why. His songs are simple and to the point and they touch you at your most honest human level. Keep on writing, singing and "playing on the road", Beau.
I can't say enough about how much emotional energy and strength this wonderful lady can express through her songs. She was simply perfect. Even the Turning Point staff, who may or may not have been fans--there is no way to know--was genuinely thrilled with her performance.
The second set was extremely relaxed--many folks stayed from the first show, and since the place is also a bar--need I say more.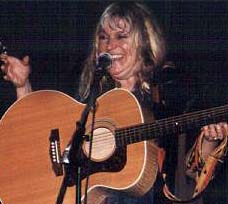 We had an audience sing-along initiated by one overly enthusiastic fan. Melanie was gracious and in good spirits about it and handled the situation like a pro, which of course she is!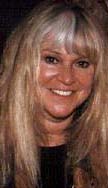 The environmental conditions were hard on her guitar. Her strings kept breaking, she didn't know why, she couldn't understand it and a lesser performer might have broken under the strain but not our Melanie, she threw caution to the wind, went with the flow and gave into numerous requests from the audience while waiting for the guitar situation to clear up, which by-the-way pretty much didn't.
She came down to sign autographs, chat with folks and share stories, opinions and perspectives. It was wonderful, marvellous,... and I don't know the rest of the words to the song but it was a great treat for all of us.
She is hoping to return to the Turning Point around Christmas time for what else? A Christmas show.
---
Back to Chronology
Back to Melanie