Aug 1970
Candles In The Rain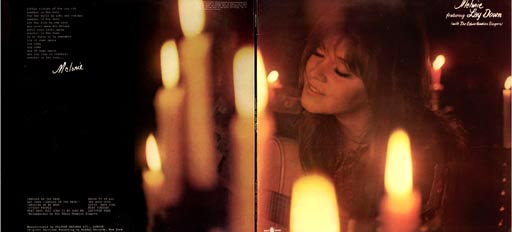 album reviews (UK)
unknown sources
---
This bright and talented New Jersey singer has produced a creditable album. She has a beautiful voice, and uses it to advantage, varying the quality and intensity to suit the song. Her own compositions which constitute all but two on the album, and her choice of material are both good.
The title song "Candles In The Rain" which Melanie wrote after Woodstock and "Lay Down", sung with the Edwin Hawkin Singers and a recent chart success make a fitting beginning to side one. "Ruby Tuesday" and "Carolina In My Mind" are two songs not written by Melanie. Nether-the-less she sings both with an emotional response that suggests she feels sympathy for both.
"What Have They Done To My Song, Ma?" which the New Seekers have recently recorded is also on the album……
---
The second album from Melanie and it's tremendous. She has an incredible voice and she writes beautiful, tender, simple songs. This album is a compelling collection of tracks from a lady with such a lot to offer to the world……
---
Melanie has only had one chart record here in Britain "Ruby Tuesday" yet she's probably the most popular female singer in the country at present. She's much admired by pop fans who appreciate her songs and her sensitive voice, and by the more 'hip' record buyers who like the messages behind her lyrics.
This, her third album, is her most commercial. There's the eight minute version of "Lay Down (Candles In The Rain)", "What Have They Done To My Song, Ma?" which must be her most popular number, and also "Ruby Tuesday".
This lady is going to become the most popular of any decade and will mean as much to the present generation as Dylan did to the last….
---
Back to Chronology
Back to Melanie