Dec 1970
album reviews (UK)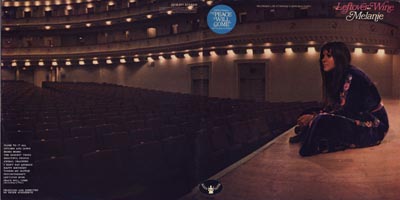 unknown sources
---
Melanie was a bit shocked to find "Ruby Tuesday" out as a single, but it was a hit and it enlarged her reputation. This album should go a little further - recorded 'live' at Carnegie Hall in New York, there is the usual attention of details in lyrics and backing.
She plays pretty sound, and loud, guitar, and the small group behind work sympathetically. Occasionally, though, the emotional content falls flat - rather a question of trying over-hard. Still "Peace Will Come" more than makes up for that……
---
There have been a number of bashful comparisons between Melanie and Bob Dylan, and it is worth using this convenience to suggest that if Dylan is the seer of this generation then Melanie is the archetypal mother earth.
Whereas Dylan is revered for his social analysis Melanie's lyrics and melodies are powerful to their simplicity of direction.
Firmly she points towards peace and all that implies. But whereas this is certain, there is greater scope for deeper interpretation. There are many ways to travel, and the meaning behind her words depends very much on the listener.
All the tracks, excluding "Peace Will Come", are recorded live in New York, and the effects of audience participation call to mind the membership of the Plastic Ono Band - we're all part of it. The sentiments behind "I Don't Eat Animals" and "Peace Will Come" are expressed with childish simplicity that leaves them vulnerable to attack, embarrassingly so if one happens to agree to some extent, and yet Melanie is far from a delightful moron, as her ability to satirise in "Psychotherapy" clearly shows.
One blot on this admirable album is the failure to include lyrics, which would of increased its impact…….
---
Melanie has only made one concert appearance in Britain - in the very early hours of the morning at last year's Isle of White Festival - and there must now be plenty of people about who weren't at that concert who would love to see her in concert. For those, the new Melanie album "Leftover Wine" should prove a suitable substitute until she actually does make that promised visit.
It's a complete recording of a concert she gave at Carnegie Hall last year and captures the atmosphere of the event showing that a concert by this lady is a very informal occasion - she talks to the audience as though she knows each one personally and, as in the lyrics of one of her songs, it's possible just by listening to feel part of it all.
Most of her songs here will be familiar: "Close To It All", "Beautiful People", "Momma Momma" and "Animal Crackers" in which she forgets her words and is prompted by the audience who are singing along.
The audience loved Melanie, she loved them, and listeners will love her to.
An album to make you feel very humble…….
---
Melanie made two concert appearances at the Carnegie Hall during 1970 and all the emotion of the first occasion is captured on her latest album. Every track, with the exception of her big American hit "Peace Will Come", was recorded at that concert and they clearly manifest the tremendous rapport the folk singer has with her audience.
At the same time the songs will considerably enhance Melanie's reputation in Britain (now that is certain she is not lost out in Britain after all). However, the album is not without faults, far too much of the extraneous matter has been left on, and the audiences anticipation that each of Melanie's numbers is to be her last becomes unbearingly boring.
"You've got to be close to it all" sings Melanie and the performance takes on the informality of a folk club; in fact she casually sub-titles the concert "Margie's Birthday Party", singing a "Happy Birthday" song which seems rather a pointless inclusion on the album.
You just can't ignore Melanie Safka anymore, whether you care or not. the writing and performing of every number is a pure emotional release as she wails out the lyrics in a crescendo of sentiment.
Many of her songs seem influenced by the city and she includes "Uptown and Down" referring to New York and "Tuning My Guitar" which established itself on her second album.
Her "Beautiful People" is still as beautiful as ever and the variation is provided through the inclusion of such whimsical moments as "Animal Crackers" and "Psychotherapy" which is sung to the tune of "The Battle Hymn Of The Republic".
My personal favourites are "Uptown and Down", "Beautiful People" and "Tuning My Guitar"; but by now everyone should know how they like their Melanie, whether in fact they like her at all…….
---
The fragile-to-hysterical voice of Melanie charms and alarms us with a set recorded at New York's Carnegie Hall last year. After her rather shaky opening number, "Close To It All", she admits to being nervous and feeling that everyone in the audience she has known at one time or another.
Her second number, "Uptown and Down", is about being in New York and she sings this with much greater drive and gets big applause.
Her following piece Momma Momma, starts quieter, with more of her acoustic guitar, as she sings about her life.
The "Saddest Thing" is a wistful ditty about the final goodbye from the one you love; and "Beautiful People" about humans of today and their shortcomings.
The first half ends with "Animal Crackers" her amusing song in which she induces audience participation.
In Columbus, Missouri, she met a cow which bleated "Moo-lanie," probably because she doesn't eat meat, so she wrote "I Don't Eat Animals"
A short "Happy Birthday" (to Margie English, a journalist), is followed by "Tuning My Guitar", a song about entertaining.
"Psychotherapy" is sung to the tune of America's "Battle Hymn Of The Republic", with "glory glory psychotherapy, glory glory sexuality" substituted for the original words. A tongue-in-cheek song, which gets quite risqué, it gets her biggest applause; indeed the acclaim takes a little too much playing time!
"Leftover Wine" is a tender song about being left alone after a party, with no one there to drink the leftover wine with her. Melanie sings this quite powerfully, with her always insistent acoustic guitar adding emphasis.
Her final song (they are all written by her) is her former single hit in America and has been added to the LP "Peace Will Come", an earnest hope for the end of hostilities.
Another excellent album from this thoughtful, tuneful artist……
---
Back to Chronology
Back to Melanie