HI-FI News & Record Review Jan 1991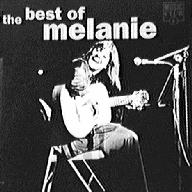 Music Club MCCD 011 1991 (UK)
Sleeve notes by Ken Kessler
---
Hyper-sensitive, guitar-singing folkie types seem to transcend fashion. At any time since Dylan made folk music hip as well as political, you could turn over a rock or two and uncover some granola-crunching child of the earth eager to hear the plaintive wailing of a descendant of Woody Guthrie or even Emily Dickinson.
But folkies run the gamut from the clean-cut and annoying Kingston Trio to the road-dust-in-every pore Guthrie to the hootenanny activism of Pete Seeger to the crazed extended family of Fairport Convention.
What's common to all of them, though, is the failure to cross over to commercial success (though most would positively die of shame should they make - shock! Horror! - some filthy lucre out of their music). So, when a folkie-type does hit the charts, he or she deserves our attention.
Melanie was one of those rare performers who seemed destined to languish in coffee houses (near universities, of course) but managed to hit the right, commercial notes. Born ion New York in 1947 - full name Melanie Safka - she studied acting at the American Academy of the Arts, and had been writing songs and singing in Greenwich Village folk clubs like some students are wont to do.
It's not often that the weather can be attributed to helping to shape one's career, but the pouring rain at the Woodstock Festival in 1969 is aid to have added Melanie to the list of folkie fill-ins whose acoustic instruments presented no electrical risks. As with so many other artists who couldn't even get stopped for jay-walking prior to Woodstock, Melanie suddenly had cachet. Her first LP, released before Woodstock, was re-released and she was rewarded with a number 6 hit in the USA in June of 1970 with 'Lay Down (Candles In The Rain)', performed with the Edwin Hawkins Singers. The powerful gospel backing enhanced her delightfully clear, quavery voice, giving it a power nearly matching that of Joan Baez's prodigious pipes.
Just before her second Top 10 entry, Melanie scored as a songwriter when her composition 'What Have They Done To My Song, Ma' became a hit for the New Seekers, reaching Number 14 in the USA in October of that year. Two weeks later, her haunting version of the Rolling Stones' 'Ruby Tuesday' hit number 9 in the British charts. This further enhanced her credibility, because few were/are those who can cover a Stones track which actually adds to the original. Melanie's delivery had a passion and an Intensity which that other great Stones recycler, Marianne Faithful, lacked, Ms Faithful preferring a sublimely jaded delivery to Melanie's angst. (Not everyone, though approved of Melanie covering a Stones song, in 1974, at a gig in London, one disgruntled Stones fan threw a brick at her).
So far so good. A Number 6 in the USA, a Number 9 in the UK and still her image as a sensitive artist was intact. She was starting to look like a match for Joni Mitchell, the aforementioned Ms Baez and other high-credibility singers when she reached Number 1 with a 'novelty' tune (included here for completest purposes). It was one of the most annoying pieces of corn ever inflicted on the record-buying public, which gobbled up 'Brand New Key' in sufficient numbers to keep it in the charts for three months. The British were only slightly more discerning; here the song peaked at Number 4 and stayed in the charts for only seven weeks.
This pretty much shifted her image from acceptable to naff. Always a bit airy-fairy, a candidate for fully-fledged space cadet honours foreshadowing even Steve Nicks, Melanie had an earth mother image and oozed warmth from the stage. With 'Brand New Key' , Melanie's favourably vulnerable image was swapped for something closer to Tiny Tim's. Indeed, the image can be nicely summed up with that excruciating parody for the Wurzels, 'Combine Harvester'. Melanie was no fool, however, and she knew what damage this smash hit had inflicted on her 'karma'. She withdrew from performing, hoping that the public had a short memory.
In 1972, she formed a record label, Neighbourhood Records, with her husband and producer Peter Schekeryk, releasing LP's which mixed her own compositions with carefully selected compositions from other writers. The label also supported other folk artists including Mike Heron, who - with Robin Williamson - guested on disc and stage with Melanie.
Since her chart action days, Melanie has recorded and performed with some regularity, releasing a half dozen LP's since 1975, not counting a number of compilations. Obviously reconciled with her past, Melanie celebrated the 20th Anniversary of Woodstock by signing a 'proper' record deal in the UK, releasing the LP Cowabonga in April 1989. But Melanie's contribution to popular music is such that she has nothing left to prove, so you can enjoy her for what she's always offered; one of the most arresting voices the singer-songwriter genre ever produced.
---
Note: I think it was an ink jar- he was deranged! He bought all her records, went to her concerts, to prove to himself that he hated her. Some years later, after a threatening letter was received, a court injunction was obtained preventing his presence at a Melanie concert in Folkestone, Kent, UK, he showed up - caused a little scene and was whisked off by the boys in blue - hooray! - He's not named here as he is best forgotten! - Dave
---
Back to Chronology
Back to Melanie