New Musical Express (UK) - 3rd April 1971
MELANIE ON: LIFE LOVE - WOODSTOCK
DYLAN - MOON AND HER NEXT ALBUM
By Roy Carr
---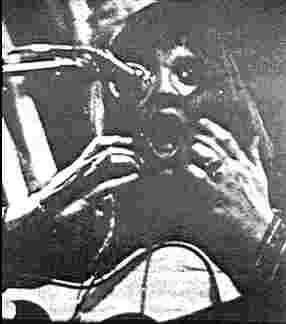 Melanie pictured during her spot at last year's Isle Of Wight Festival when she had to wait two frustrating days before she could appear

It has been a loyal, if somewhat silent majority that has elevated Melanie to her pedestal position. Her admirers are a breed apart -- not the kind who pose flamboyantly in trendy locations with her latest album -tucked carefully underneath an arm as if it were the insignia of an exclusive club. Hers are discriminating listeners, who in the solitude of their homes, absorb the contents of her songs, almost as if it were a subversive act.
This is by no means indicative of Melanie Safka's music being tantamount to blood-letting revolution in the streets or hard hitting blows against the Empire, Melanie sings of life - her life - in all it's bitter-sweet phases.

Assault
While a brigade of certain un-cool publicists daily assault ones ears and insult one's integrity with "happy cabbage" fantasies of how they've discovered this week's rival to Joan Baez, the Beatles, Quasimodo or the Red Army Ensemble . . . Melanie has quietly arrived with a minimum of controversy.
Her reputation has been built by way of her songs, and the sensitive manner In which she adapts other writers work to her distinctive style of delivery.

Her source of inspiration comes in two ways, as she put it, " There are two kinds of songs I write . . . the ones that I feel and those which come through me."
This short statement paved the way for Melanie to discuss the varying tracks on her soon-to-be-released Buddah album, "The Good Book."
"Personally speaking, this is my favourite of all the albums that I have made", she admitted shyly as she thumbed through the slim book of illustrated lyrics which accompanies the collection.
Stopping at the page which bears the short narrative of "Isn't It A Pity," she remarked how much she loved the drawing by Catherine Siracusa which dominated the layout, depicting a smiling Melanie complete with angels wings pirouetting on a grinning globe.

Drawing
After gazing at it for some minutes she remarked, 'I really like that drawing, 'cause every time I look at it I find something new in the face on the globe,"
The first track on the new album is the title song "Good Book," about which Melanie stated, " I like this long very much. When I wrote it I actually started crying." Without showing any signs of embarrassment. "And when I came to write the lines "And It's sad that we weren't born like horses and sheep. To know where we're goin' to know what we need." It sounded so pure ... feeling that the song was coming through me without any effort."
"Though it is one of my favourite compositions, it doesn't seem to got the same reaction as some of my less beautiful songs when I perform it in concert,"
In a muted which doesn't at anytime reflect her New York background, she retold an interesting tale of how she came to conjure up the theme of "Babe Rainbow."
Sitting like a bright eyed little girl with an attentive audience of 'grown-ups," she took a deep breath and commenced "It was at a time when I was living in London, Chelsea to be exact. Well, nearly every day I used to pass this window in the Kings Road which had this painting of a lady wrestler, At first I thought that perhaps it was just an ad for some group or other. After a while I found that I was becoming fascinated by it, so one day I walked in the shop and enquired as to what It was, It turned out that it had been painted by Peter Blake, the guy who created the cover of the Beatles 'Sgt. Pepper' album,
"Then I began to identify with this lady wrestler. . . to the extent that sometimes I would catch myself in the mirror wearing her 'So What' expression. I suppose I was really hung-up with it."
Pausing for a moment she added, "It's more of a personal experience song which mirrors my life a little more."
Admires
While others exalt the originality of her compositions, Melanie in turn suddenly becomes a self confessed fan should Bob Dylan's name crop up during conversation. With the happiest of smiles decorating her lips she will speak at length about her admiration for Mr. Zimmerman, To exemplify her admiration she has included Dylan's "Sign In The Window " as the third cut on side one.
"Yeah . . . it's nice isn't it." in an attempt to restrain her enthusiasm. "I love the 'New Mornings' album . . . It's definitely the best thing that he's ever recorded."
"With the release of 'Nashville Skyline,' he stopped aping Bob Dylan and just became himself. I feel that he is so much more positive now as opposed to the kind of negative approach he once had. A lot of the underground are still into his old stuff, but while they are still hangin' themselves up on it Dylan's moved on leaving them all behind.
I'm so very happy that someone so big is now in that position," and she really was.
Of a song called "Saddest Thing" she revealed that in fact she penned it four years ago but didn't perform it very often until quite recently. Her reason was that only now is she starting to fully understand what she wrote.
Theme
Following quickly on the success of their cover version of Melanie's ".What Have They Done To My Song, Ma?" the New Seekers have cut yet another Melanie song "The Nickel Song." The theme of this seems to be directed at the business side of the industry, which again she pursues in the words of "The Prize."
"This is quite a new song in which I state that I'm in a whole different state of mind and in control of my life."
"Thankfully, I don't feel afraid . . . or that I've got to prove myself. Basically it's about people who try to manipulate and re-direct your life."
"So I'll sing a song if that's what they want me to do, but I'm not thrown by it, though in 'The Prize' I was becoming very bitter about it all."
The idea behind her non-song narration "Isn't It A Pity" she revealed in last week's NME. Two other songs. by writers of quality , Judy Collins and Phil Ochs, grace this collection.
Judy's ode "My Father," she considers to be a beautiful song and is quite amazed that no one else has ever waxed it. Phil Ochs "Chords Of Fame " was included simply because she once heard him doing it at a concert, " I was really moved by it and after the concert I asked him if he had recorded it. He had, but it was horrible, but despite that I learnt the words and here it is."
"You Can Go Fishing" is her Mother's favourite along with a song as yet untitled and unrecorded, "The Birthday Of The Sun " is a composition which she has tried to record on no less than seven different occasions for inclusion on each alum, "I still don't know if it worked," was her hesitant conclusion,
In the 19-moths which has passed since the Woodstock nation met for three days, its by-products have become an excuse for turning many a last bud. While Joni Mitchell wrote about the event through the eyes of Crosby, Stills , Nash & Young, Melanie collated her own vivid, it somewhat brief, first hand observations in "Candles In The Rain (Lay Down),"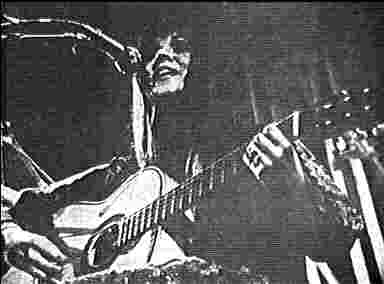 Another picture taken at the Isle of Wight Festival gives no clue to the fact that as she sings, dawn is beginning to break. Both pictures by Michel Arnaud

Engaged
Her visit to Max Yasgur's farm to participate in the songs and the celebrations, was by way of a round-trip from London, where she was actively engaged in writing and recording a motion picture score.
"Once the arrangements for me had been finalised I flew out from London . . . stayed for a couple of days and immediately returned to complete my project, At the time, I didn't realise just how big it was." Did anybody?
"I'm glad I was there and shared the experience." In fact, part of her performance has been preserved on the second volume of the recorded saga of that Aquarium Festival in the form of "My beautiful People" and " Birthday Of The Sun.'
As her popularity has increased, Festivals have proved to be an integral part of her itinerary. With her ill-fated appearance at last summer's Isle Of Wight bonanza proving to be a waking nightmare.
During the chaos and subsequent breakdown of the organisation, it was the ladies ... Joan Baez, Joni Mitchell and Melanie who suffered great and personal inconvenience,
While others flew in --- did their set - and immediately flew out again by helicopter, Melanie had to endure two uncomfortable days while she waited to perform, eventually taking the stage at an unearthly hour when most people had slipped into the sleep of the exhausted.
On the first day she arrived early . . . fresh and bright, eager to sing, But as the turmoil accelerated she was told to wait - and wait she did - the anxiety and tension welling up inside of her.
"At five in the morning I was so tensed up that I freaked," having to be rushed to an hotel to recover, As the brilliant sun filled her room the next morning, she was drained of all energy and enthusiasm, her lungs and nerves having given out through waiting for hours in the fume filled trailer she had been assigned n the back-stage enclosure.
After being persuaded to return once again to the site, Melanie encountered a smiling young man lounging in her trailer. Though his face was vaguely familiar she didn't give it a second thought, coming to the conclusion that he must he one of the stage crew.
As the hours slowly dragged by he took it upon himself to become her self-appointed valet and court jester.

Fussing
Recalling that time, she began "All the time he kept on fussing over me, asking if I was all right and did I want any tea, milk . . . my wish being his command.
"Suddenly, the door burst open and in jumped Murray Roman and immediately they went into an hilarious comedy routine," Within minutes, she was in fits of hysterical laughter ... rolling around clutching her sides, "I can't begin to tell you how much that cheered me up, and then they were gone," As it tuned out Murray's Partner in crime andd mirth was none other than that amiable stick twiddler Keith Moon
"I nearly died when I found out," she admitted with a laugh, "but I didn't let on to the fact that I hadn't recognised him, You know he really extended his warmth to me, knowing that I'd had such a hard weekend."
But Mr. Moon's hospitality", didn't end there, Melanie finally appeared and it was again in the wee small hours on a stage cluttered up with Sly Stone's equipment and bathed in sickly yellow light, Keith then tried everything in his power to arrange the desired subtle lighting effects. But to no avail . . . the lighting . . . crews having fallen asleep and then split following the Who's set.
Keeling
"So there I was In this pucky yellow, with all that equipment lit up behind me, It was so late that even the guy who was filming me was keeling over with sleep in his eyes."
There comes a time when night quickly turns into day before you have time to realise.
One moment Melanie had a canopy of twinkling stars, then as she looked up from her fret board during the second verse of "Tambourine Man" the sky was yellow, the sun was rising and after all the many tribulations everything turned out all right
That seems to have been me the axis which has passed through her career . . . hardship, eventually giving way to success. But then Melanie has the will to succeed, yet not to the point of obsession.
She may emit an aura of naivety and unconsummated maturity, still she is determined to direct her own destiny, She'll compromise to a self-satisfying degree, however, should anyone dare to take advantage of her friendly disposition and attempt to cudgel her to their way of thinking. I'm sure they'll be confronted with a polite yet adamant refusal.
Though earlier she had made protestations about not feeling pretty on this day of our meeting - she was - both in mind and body. It's nice to know people like Melanie, they are few and far between.
---
Back to Chronology
Back to Melanie